"I hate Inclusive Education."
These words came as a surprise to me. They were recently said by my friend Rahul, whom I have known since college. He was an active participant in social movements in college, and has since been working as a maths teacher at a government school. After completing my studies, I took up the post of a Special Educator in a private international school.
"Why do you think so?" I asked him. "It's perhaps one of the most beautiful things that is happening in the world. All children, irrespective of their disabilities and difficulties, are learning in mainstream schools, colleges and universities. The system is adapting to include disabled people; they do not need to adapt to the system anymore. Of all people, you should not speak like this." My friend, a man of few words, told me "come to my school on Monday".
Monday morning, I walked into the government school where he worked. I sat on one of the benches outside the Principal's office, and a beautiful picture on 'Inclusive Education' caught my attention.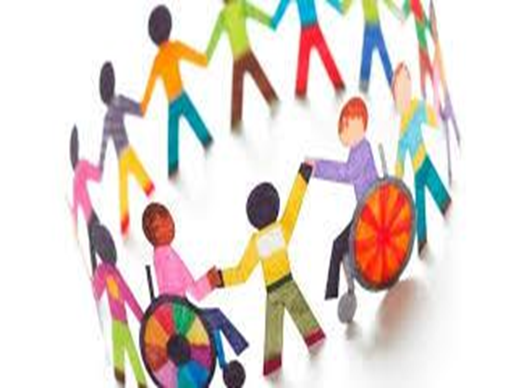 Below it, was written, " Our school supports Inclusive Education.".
"That's fantastic!! How many special needs children do you have?" I asked one of the teachers.
"33 ."
"That's really good! And how many special educators?"
"1", she said, "and she comes only on Thursday and Friday."
"What??" I couldn't believe this. "How do you manage them like this?"
Rahul chipped in "nobody is managing them. Earlier the children who were slow learners and exhibited characteristics of intellectual disability (mental retardation), autism, dyslexia, all dropped out of school. Now, all of them sit in the same class with no extra support. The result – they disturb the functioning of a normal class."
My thoughts went back to my school, the most prestigious one in the city, famous for successfully adapting inclusive education. With a student teacher ratio of 3:1, my school also provides a dedicated full time teacher (called a shadow teacher), in cases where the difficulty of the child is severe.
With these thoughts in my mind, I continued the tour of Rahul's school. In one of the classes, I met Radha, a beautiful and high-achieving, intelligent girl in 9th grade. Her mother works as a domestic help and her father is no more. Radha is determined to study well and help her family. Her teachers also have great hopes for her. Abhinav, of the same class, is a 14 year old teenager with autism. Abhinav cannot study the same curriculum and lacks social skills, a common problem among autistic children. No one guides him properly, and the teenager in him plays. He constantly stares at Radha and tries to touch her. Radha, irritated and distressed by this behaviour, has begun to feel reluctant to come to school.
Here lies the importance of a special educator – someone who could make an adaptive curriculum for Abhinav to follow, and constantly work on it; who could counsel Abhinav daily and teach him about acceptable behaviour through stories, plays and videos. However, none of that was implemented at this school.
I remember Martin from my school, who is autistic. He would loosely use the words he picked up from somewhere, like 'cool guy', 'crush on girls', 'under fire', etc., that would all be used inappropriately. He would go and kiss any small child from kindergarten saying babies are sweet and have to be loved. He now has a shadow teacher who constantly monitors him. Daily lessons on expected social behaviour are given to him. His peers are sensitised and a buddy pair has been allotted to him for any help he may need. Travelling on school bus posed a problem as there are no teachers on it, but he has been taught to do the rubric cube to keep him engaged through the journey. He is also allotted a special place on the bus, with some friendly, well-behaved and helpful seniors. Martin learns an adapted curriculum with the help of his shadow teacher. He is taking his music, art and physical education lessons with the class and has developed a great interest in singing.
Back at the government school, I continued my walk from one class to another. The scenes I saw were distressing. In one of the classes, a teacher scolded a child for reading all wrong. I sat in the class for some time. "Maybe the child is having reading problems – substitutions/ omissions/ reversals – because of dyslexia??" I thought to myself. I talked to the teacher after the class, but he was in complete denial. "No , I don't agree. He is just lazy and doesn't read at home, that is why he makes so many mistakes. He is good at all other subjects, including mathematics. This is sheer laziness, nothing else". He was almost certain of his judgement.
I wanted to show him this: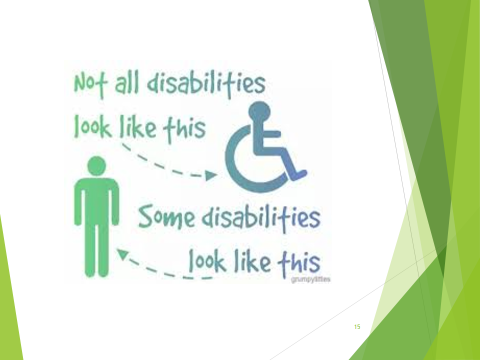 But I was sure I would not be able convince him. I gave up. Once again I felt the need for a special educator. Had there been one, they might have been able to convince the teacher and give some help to the child who had a 'hidden difficulty.'
Through daily conversations with the subject teachers and parents, all teachers teaching the child can know his difficulties, and modify their class room instructions accordingly. For example, printed notes for a child with writing difficulties; guided or no reading aloud in class for children with dyslexia; peers can also help make audiobooks on chapters for their friends to listen and learn from; MCQ [multiple choice questions] can be substituted for lengthy answers; checking can be done on the attainment of concept, etc.. Exactly opposite to the scene which I saw now.
As we moved on, Rahul spotted Arun who often runs around the whole school for no reason. He forgets things and picks quarrels. He is unattended. The teacher just dumps the child on the special educator saying "take the child out of my class". Once it happened that the child asked back, "Why should I go? I am not a fool. Only fools go with that teacher." When the child refused to go with the special educator, he was forcefully sent away. The next day his parents came with a complaint, "My child doesn't have any problem. Let him sit in the class." The teacher failed to explain the situation and he has been back in regular class since. This is another important issue that needs to be addressed – sensitising parents and managing a child with ADHD in class.
Arun reminds me of Arjun, the captain of the school football team in my school. My God, what difficult days those were!! Arjun as a third grader wouldn't sit in his class for a minute. Picking up quarrels every now and then with peers and juniors was a daily routine. Sometimes the school property was destroyed. We were completely clueless as to how to manage the child until we discovered his love for the game of football. The football coach would never let him in as he always played foul and never followed the rules. My fellow teachers, who had never played football their entire life, started watching games of Pele and Maradona. We were determined to put him in the school team. Now, Arjun is in 12th grade and has brought so many accolades for the school. All his ADHD has turned into trophies!!
Out of curiosity, I asked my friend "Can I see your special needs room?" What I was taken to was a dark, dusty room with a few charts hung on the walls about sight words, spellings, and multiplication tables. There were some building blocks and a toys in the room too. "All these," my friend said, "are bought with the help of the Parent Teacher Association. The educator who comes here has to visit five schools in a week; some of the schools have more than 100 special needs children."
My school has a full-fledged Special Needs Department with all facilities. We have multi-sensory materials to help in fine motor/ gross motor development, parallel bars for gait training, flash cards, puzzles, and tools for memory enhancement, and standardised teacher rating list for the identification of disabilities.
I finally understood what my friend had said about inclusive education. Lost in my thoughts, I came back to sit on the bench. A girl, very beautiful, was smiling and walking towards me. She had difficulty walking and her mother was holding her. Her mother seemed very happy. She gave a chocolate and said, "my daughter, Shreya, passed the 10th grade with 7 As. She had multiple problems, and was in the 'Low-average' intelligence level category. I never thought my child would make it to the 10th grade. I am so happy!" I was also happy and relieved to see something positive. I got the shock of my life, however, when I realised that she couldn't even spell her name properly. I asked the mother how she had managed so many As. The scribe wrote the exam for her, her mother replied.
I thought, "Do we have a magic wand in our hands at our school?" The answer is surely no. But we have a realistic approach for children with special needs. The low achievers (in academics) are still low achievers. If a child is not able to learn the curriculum, we simply teach a functional curriculum.
Why teach a child with intellectual difficulty, how to solve a quadratic equation in one variable? Instead, teach him how to do his daily chores. How to go to a shop, buy things, give money and get the balance. Teach him how to read and write, and type. Introduce him to general reading rather than the difference between a plant and an animal cell. Find out his strength and encourage and develop it to its maximum, so that he can live his life on his own. The parents who have entrusted us should breathe a sigh of relief and not have a certificate full of As which doesn't have any value.
I pondered to myself:
If it can be done in a school like ours, why not in government schools?
What is preventing this from being carried out effectively in a government set up so that more children can benefit?
Are we mocking the entire system of 'Inclusive Education' which is so well practised in other countries?
What are we giving a girl like Shreya? Are we helping her or making her more dependant?
My friend, now I understand you… the frustration of a true teacher inside you…
Knowledge is power, and our intention is to bring the power to you. We have initiated a thought movement that aims to strengthen democracy by bringing to you direct voices of important trailblazers and pathmakers, and reclaim deep and patient reflection as an important seed for relevant and sustainable action!
Help us take this movement forward. Support Inter-Actions today for as little as Rs. 100.
Donate
Donation to LILA is eligible for tax exemption u/s 80 G (5) (VI) of the Income Tax Act 1961 vide order no. NQ CIT (E) 6139 DEL-LE25902-16032015 dated 16/03/2015