LILA: Your father, Faiz Ahmed Faiz had a way of looking at culture as something that could transcend nations and such artificial boundaries, bringing people closer together – as Hum Dekhenge has done in recent times. At the same time, he was involved in designing the national policy on culture for Pakistan. Can you tell us about how he understood and looked at public culture vs national cultural policy?
Salima Hashmi: He started writing cultural policy, I think, in 1968. This was an initiative of the Pakistani government, interestingly, as a response to the growing political division in what later became Bangladesh (East Pakistan, at the time).  To design the cultural policy, a broad-based committee was set up with both wings of the country, writers, artists, people from music, theatre; I think there was somebody from film also, but I'm not sure, and he was a member. They travelled across the length and breadth of the country, including what was then East Pakistan – Silhat, Rajshahi, Chittagong – and met theatre artistes, musicians, painters, crafts people to hear from them about what they needed and what they felt. This was all written down and recorded. The committee then met and the task of formulating this policy was given to my father.
During this process, he looked at the policies of various countries: he looked at the Indian framework (I remember he had it in his library) of Lalit Kala and other Akademis, he looked at Soviet Union, he also looked at Japan. After various consultations, the policy was formulated in 1970, but then the elections of 1971 happened and the first half of it had become immaterial, with East Pakistan gone. But there were still some tremendously wonderful ideas in there.
When I was looking at his notes, I found things like using railway stations as cultural hubs. You already have this large network built by the British across the country, which also acts as the centre of activity, especially in small towns. He suggested that the area around it could be used to set up theatre, Qawali performances, music performances, melas and so much more, especially when we don't have the budget for buildings. If you read the policy (which was published with his other writings on culture by Oxford University Press, Pakistan in Culture and Identity), it looks at the varied components of cultural expressions in a country that has gone through colonial rule, and the conflicting elements that make this composite of a post-colonial society. In a country like Pakistan, for instance, a strong component is the fact that a thousand years ago Islam came into this sparkling country and merged with local religious beliefs as well as the local culture. So, religion is certainly one of the components, but it is not the singular one. The policy is actually a very deep examination of the provincial, the local, the indigenous, the classical, and the colonial. Policies have to look at all these nuances. It cannot be strongly regulated at the centre but has to alter itself as it comes to every level, and people have to be given the right to evolve that.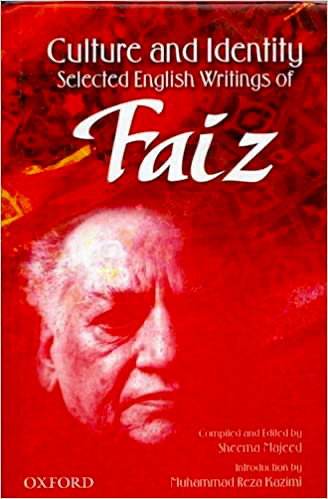 I think that so many times that he was writing about culture, he was constantly talking about the fact that you have to be aware that a certain kind of a dictatorial nature is present when there is capital involved. You have to make sure that you are standing firm against that and that it doesn't dissipate delicate local culture. Of course, the cultural bodies are required, such as the National Academy of Letters, National Academy of Performing Arts, National Arts Councils, Book Foundations, Academy of Films, etc. But he constantly reflected on the complexity of human society, and how a single kind of blueprint should be avoided in the policy-making process. It should instead be a patch work of many blueprints and must have an overriding feeling of respect for all human beings and all kinds of human expressions, irrespective of whether they are "acceptable" to the powers that be.
In fact, he delighted in the fact that small towns had very local, very unique expressions which were just for that area and cared deeply about bringing them out and sharing them with larger communities so that everyone could enjoy the enrichment that they bring to your life. So I think he was very sensitive to the fact that these have to be balancing acts in the cultural fabric of the people. He genuinely believed that there was space for every kind of contribution which he was constantly inviting.
LILA: Another important role Faiz took on was as the editor of many significant publications, such as The Pakistan Times, Lotus, among others. Are there any instances you can share with us, to throw light on how such an approach was practiced in his editorial activities and public engagements as well?
SH: If you look at his early editorials that were published in the Pakistan Times, I think you'll find that there is a very strong practical aspect that he has. Also, I think that he was able to withstand attacks on his ideologies. He was able to fly from Lahore to Delhi to be at Mahatma Gandhi's funeral when there was intense conflict going on between the two armies in Kashmir because he felt that this journey had to be made. The fact that his columns spoke out about the downfall of Mohammad Mossadegh show that he was willing to call a spade a spade. But I think that he was also never strident. He was firm but never strident; that was just his nature. Even with his worst enemies or the most horrible people we came across, he would just take a swig and his cigarette and say "koi baat nahi" [it doesn't matter]. Once I was saying something about somebody who had been terrible with him, and he smiled at me and said "dekho, asmaan se farishte toh uttarenge nahi, toh insaano ke saath hi guzaara kar lete hai." [Look, angels aren't going to come down from Heaven, so let's make do with the humans.]
When people asked how he had this immense capacity, he would just say that he was given a lot of love as a child. He was showered with immense affection by the women of the house, so he too became capable of this immense amount of love. His translator Naomi Lazard, an American poet, said to me that in another time Faiz would have been a spiritual leader, because he had that tremendous ability to pick on the smallest person and make them feel special, whether it was a two-year old or an eighty-year old. He couldn't say no to anybody for anything. He would just pour himself out and yet he had very firm ideas that he could not compromise on, but it was all done in the most casual way. Also, because he was a very intuitive person, and had a tremendous sense of humour, so he would take whatever he was saying or doing with a great big pinch of salt. He did not need to make his stand very loud or visible one. But it was always very firm. He couldn't stand injustice. He would demonstrate against it in a very quiet but firm way.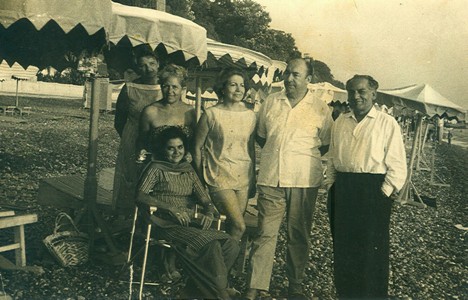 LILA: How did your time away from him, when he was jailed and later exiled, influence you? Were there lessons about life and politics you learnt quite early as a result of this?
SH: I think for one thing, it certainly makes you aware of other people's hardships. That goes without saying.
As a child there was extreme insecurity because of the fear of what would happen. I think perhaps my father also felt guilty about standing up for his beliefs, and my mother and us, the children, having to pay for it (of which he wrote in one of his letters to my mother). But my mother, being a very strong person, always asserted the fact that it was for the right cause. So you absorbed the idea that if you stand for something good or right, a price has to be paid. And I think if you absorb this in a natural manner as a child, you also accept the hardships that go with it. It gives you a great feeling of what is right and worthwhile in life. The smallest of things can give you great joy because you waited for them. For instance, it used to be very difficult to not see him for 6 months and know that you would see him for just an hour when you do. But then you would also find how precious it was.
Now, when I think of my years of teaching, it made me far more sensitive to these deprivations of my students, who came from minority groups. It made you a much stronger person; a person that is far more aware of human behaviour, of human compulsions, more sympathetic to people who cave in but also more tremendously inspired by people who don't. At a very early age, you also learn things like loyalty, and accept people who show this quality with great joy and respect. You also learn about human frailty and what cowardice is, what strength is. You learn these basic realities of life very early, and what human value is all about.
In the years that he was exiled, we were tremendously worried about him, but we were also living through Zia-ul-Haq's period ourselves. My husband went to jail on exactly the same day as my father, 30 years later. My father was arrested on 9th March 1951, my husband was arrested on the night of 9th March 1981. Of course, he was not in jail for so long, just 3-4 months, but it was quite surrealistic in its own way. In fact, when I went to see him, the Superintendent of the jail said to me, "aap Faiz Ahmed ki beti hai? Main Assistant Jailor tha tab aap apni mother ke saath aati thi apne father ko milne" [Are you Faiz Ahmed's daughter? When I was the Assistant Jailor, you used to come with your mother to visit your father]. The more things change the more they stay the same.
But you learn to understand so much about the society; about the nature of the State; about how it operates and how it has to silence; how it manages to rule and govern. But also, you learn how to do your own little rebellions.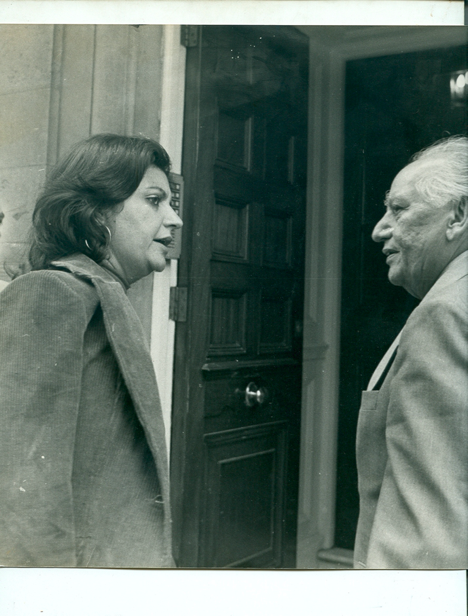 LILA: You mentioned that this also influenced you as a teacher. How did these insights carry into your teaching years, especially with respect to passing them onto your students?
SH: I think that my own artistic practice and my teaching were not two separate things. I learnt this from my father's generation because he revered his teachers, people like Pitras Bukhari and Sufi Tabassum. Until his last years, he would write a poem and say, "I'm going to Sufi for my correction." Your teacher was somebody who taught you about life. You learnt everything from how to cook, how to listen to music, what to think about politics, etc. We were deeply engaged people and our practices were always multidimensional. That went into our classrooms also.
When I started teaching, the political situation in Pakistan was such that we were kept in the limelight, in the sense that the things that we said were often contrary to the state narrative. We were talking about values that went against the norm. But I think as a teacher, your pedagogy has to go beyond what is in a textbook, because it is critical thinking that you are involved in, and that is the message that hopefully goes into your ways of educating people. Also, I think you have to simply help people find their own way. They have to be on their own, and they have to know that we can only help.
I was lucky that I was at a University (National College of Arts) that allowed a young teacher like me the freedom to do that. In the Arts, there is no question of having one way of understanding the world or one way of recording your vision. It has to lead people to a multiplicity of options. So a couple of us were able to work with the students in this way, and these students latest became our friends and colleagues because we were part of building a larger group of ideas. That is what has been sustaining me as a teacher and as an artist all along.
LILA: You have lived through various regimes in Pakistan, including one of the most oppressive ones during Zia-ul-Haq's time. India too has seen its share of authoritarian governments throughout history, including the one we are living through now. The world over, in fact, we seem to be witnessing the rise of similar leadership. Are there lessons we can learn from each other, from these shared experiences?
SH: Very familiar signs are emerging in India; we know them very well. This was apparent to me 5-6 years ago, though it was not a very apparent inference because these things happen very insidiously. They find their way first into the domains that don't seem obvious, but pretty soon you find that there is greater and greater exclusion.
Unfortunately, in Pakistan, while you have the semblance of a democratic setup, the freedom of expression is suffering great opposition right now. I think in certain ways we are worse than we were during Zia-ul-Haq's time. The disappearances that are happening across the country; the way the media is being muzzled except that media which is sponsored; one type of view is tolerated and not a diverse set of views – the other views are called unpatriotic, against national security and not our culture. So, I understand very well what is happening in India. In different ways it is happening in Pakistan also. It is not so apparent to the outside world, but it is very much here.
But you see, one learns to deal with all that because you have fine-tuned your ways of survival. You can manage to push the boundaries and keep going with all your abilities to support those who are younger and more oppressed than you, because you have seen good times also. You try your best to give them the kind of faith, support, inspiration and strength that they require because they are young and need to be nurtured. This is not a good time in Pakistan, yet you make the most of what you have and if something good happens, you celebrate it and give it a lot of support. Because those are the times when your lungs are able to take in a lot of air and breathe. So you nurture good times as you struggle for a better future.
---
Knowledge is power, and our intention is to bring the power to you. We have initiated a thought movement that aims to strengthen democracy by bringing to you direct voices of important trailblazers and pathmakers, and reclaim deep and patient reflection as an important seed for relevant and sustainable action!
Help us take this movement forward. Support Inter-Actions today for as little as Rs. 100.
Donate
Donation to LILA is eligible for tax exemption u/s 80 G (5) (VI) of the Income Tax Act 1961 vide order no. NQ CIT (E) 6139 DEL-LE25902-16032015 dated 16/03/2015