It's an image of a woman boxing a punching bag. But this is not an image of victory, like that of Mary Kom recently winning her sixth World Championship title. Most images that depict boxing evoke a sense of heroism, valour, physical strength and endurance. These images typically focus on the physicality of the body. But just like Mary Kom, who is also celebrated for motherhood, a role that equally demands synergy of body, mind and emotion every single day, the image of a woman wearing pink boxing gloves and punching a punching bag is in fact not about the sport, but an everyday struggle that we are familiar with. Kirsty Latoya, an artist from south London who created the image, shows us what else the punching bag could contain –unseen battles fought by unsung heroes with invisible boxing gloves.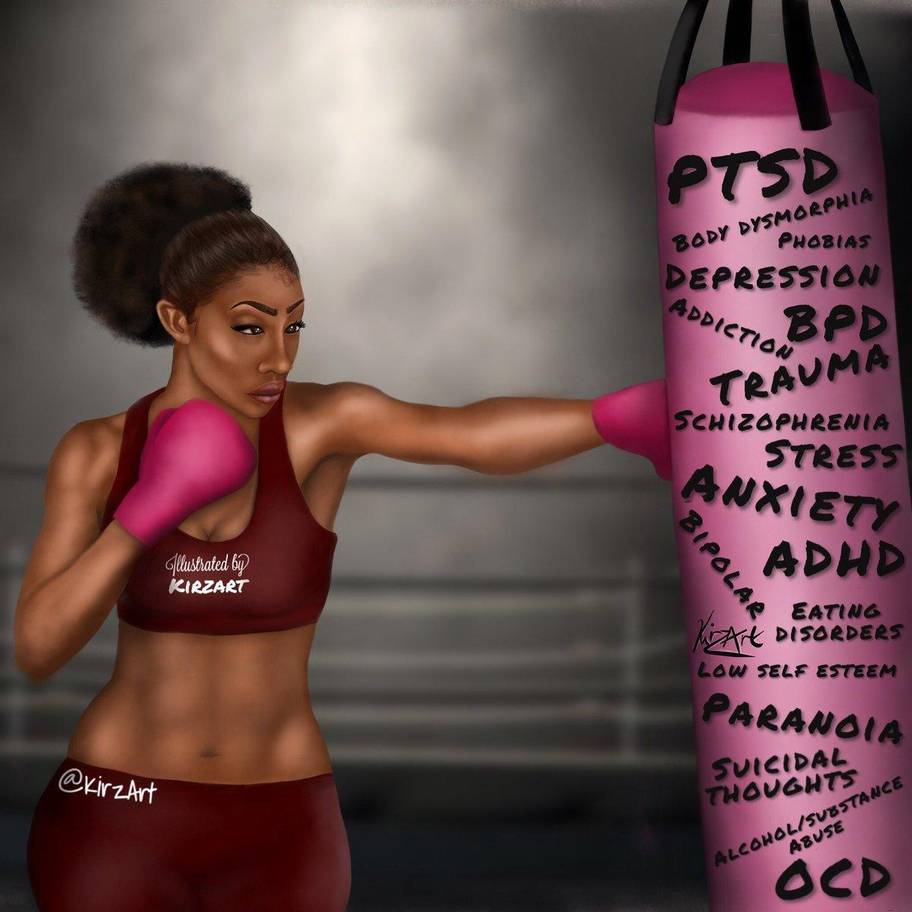 Abbreviations like PTSD, ADHD, OCD may not be understood by many, but the likelihood of identifying with or at least recognising the symptoms of anxiety, depression, Post Traumatic Stress Disorder, Attention Deficit Hyperactivity Disorder, Obsessive Compulsive Disorder, Body Dysmorphia, and eating disorders would be a familiar experience for most people.Yet we perpetuate a culture of 'blinded normalcy' when it comes to publicly discussing issues concerning mental health.
"I started to develop a hate for my body because of this", Kirsty writes in her blog describing her struggle with depression and Marfans syndrome that has affected the connective tissues of her skeletal system since her teenage years. As a child, she had dreamt of becoming an illustrator but during her early twenties, she lost her mother to the same condition that she too had been diagnosed with. Kirsty stopped drawing
because she didn't want to do anything that made her feel happy. But when friends gradually encouraged her to draw and express her thoughts, Kirsty decided to try. Soon, along with counselling, art began to help her heal.
It is crucial to understand that the biggest step for people coping with mental health issues is to engage with something physical, even more so when their condition involves negativity towards their own body. A large part of our time is spent with our digital and electronic devices that require us to engage only with our hands and fingers. These devices have become casual extensions of our bodies, much like our clothes and accessories. Their casualness is perhaps less intimidating than a blank sheet of paper or canvas. Add to this the ease of changing and erasing anything . Their portability allows us to fiddle with one's work on the move, not to mention the endless potential to share it . Kirsty's art brings attention to these advantages of the digital media alongside the widely acknowledged value of working with one's own hands in art therapy. Using a stylus or her finger, Kirsty has created most of her artworks on a smartphone or iPad.
The intrinsic nature of art is to empower and embolden one's ability to examine, reflect and express. Whether it is a still-life of objects or a drawing of a plant, it demands that we look at our subject and express what we are looking at. Articulating that expression of the 'what' or 'why' or 'how', builds in us some amount of understanding about ourselves. This is a critical exercise for the mind and hence needs recognition and celebration. It also requires immense courage to engage in this exercise consistently. This is what artists, writers, musicians and innovators are celebrated for. Kirsty's art carries the courage of engaging with this creative process while simultaneously raising awareness about mental health, cultural identity and social attitudes. The prominence of the body in all her works addresses these subjects, assimilated through her own experiences. Her interest in illustration is evident in her bold and direct expression of ideas that draws influences from clothing brands and designers.
Particularly evocative is the Skin Series done between 2016 and 2018. While an initial viewing of these works seem to be representations of people with different skin conditions, the works also begin to trigger larger questions regarding social stigma towards skin colour, race, identity and how we deal with our own otherness.
From the Skin Series by Kirsty Latoya (2016-2018)
In some ways, Kirsty's work seems to be building a context for itself through her practice. It clearly exposes the need for widening the existing frames of inclusion and acceptance of cultural practices. Talking about her own experiences and formulating it through art and poetry have not only empowered her, but has emboldened many more to speak about their struggles. It has helped place the onus on each of us of improving the support structure for mental health issues.
Knowledge is power, and our intention is to bring the power to you. We have initiated a thought movement that aims to strengthen democracy by bringing to you direct voices of important trailblazers and pathmakers, and reclaim deep and patient reflection as an important seed for relevant and sustainable action!
Help us take this movement forward. Support Inter-Actions today for as little as Rs. 100.
Donate
Donation to LILA is eligible for tax exemption u/s 80 G (5) (VI) of the Income Tax Act 1961 vide order no. NQ CIT (E) 6139 DEL-LE25902-16032015 dated 16/03/2015