LILA: Thank you, Anshu, for participating in this issue of Inter-Actions as our Renaissance Person. In the past few months, thousands of Indians have come forward to initiate several kinds of assistance for those in need. At Goonj, this is practised not only in times of pandemic but on a regular basis. How do you visualise the ecosystem of 'exchange' in our society, as it lies between conceptions of transaction and charity in the marketplace?
Anshu Gupta: Let's talk about charity. Charity by practice refers to being benevolent in giving and sharing, whereas charity by virtue is a religious concept of unlimited love and kindness. Both are positively bent, yet we see that charity inherently makes the giver feel superior and the recipient a bit inferior. Anything that makes you feel less than or small can't lead to development. In the current paradigm, development places the givers – of money, material, expertise, solutions, etc. – on an elevated pedestal, while the poor remain the recipients of this 'help' from the world. Charity is ok for a time, after a disaster, for instance, till a person is able to get back on his/her feet, but I strongly believe that any development programme which works on such an unequal paradigm cannot lead to development.
A change in this paradigm, where charity is received with dignity and without compromise, is what Goonj put its focus on. Over the last 20 long years, we have prioritised the dignity of people and worked with them to improve their own eco-systems through local efforts and knowledge. The key point is that when people value their natural resources, they nurture them as well. So, instead of imposing our opinions on the wellbeing of people, we motivate them to make decisions about their own wellbeing. This has led to some inspiring results, while building sustainable development and incubating a strong sense of confidence and wellbeing among the people we work with.
LILA: There have been many NGOs working to achieve different purposes, locally and pan-India. What made you decide to focus on this particular format followed at Goonj?
AG: It first started when I used to see homeless people shivering in the winter, which made me realise the need for clothing and its lack thereof. It stirred up many anecdotes from my own life, of how a middle-class family puts a lot of attention into clothing, because there is a sense of dignity/pride attached to how we look. I realised how we all first judge people by their attire, deciding on the first glance whether someone is rich or poor, educated or uneducated, urban or rural, etc. Our work of 15 years on menstrual hygiene also sources its inception in the time we realised that millions of women struggle every month for pieces of clean menstrual cloth. This is where we quickly realised that cloth, even though a basic universal need (Roti, kapda aur makan) is not on any development agenda – regional, national or global. We wanted to change this mindset in people. We are pushing for a paradigm shift where cloth, and now other urban surplus resources, can be catalysts for deep developmental work ranging from infrastructure and livelihoods to health and sanitation.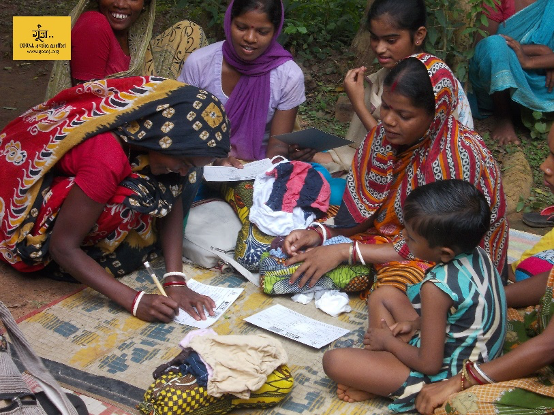 LILA: In your initial days, how did you establish a trusted relationship with people who agreed to become your local partners without any prior accountability on your side? How is this trust sustained over the years, and amongst the cross-section of individuals who get involved?
AG: It is simple – by involving everyone as an equal stakeholder in the world we live. We can involve people only when we value their dignity. Then, everyone becomes a participant in development work. I equate it to the 'Havan' – the holy fire ritual common in India. In a havan, everyone makes an offering – someone puts the wood, another fire, another havan material, etc. The holy fire and rituals happen with everyone's contribution. No one's role is big or small. If the matchstick that lights the havan fire believes that the havan happened because of it, that's wrong and misplaced arrogance. Goonj's work is a living and growing example of this ideology. It started with 67 personal clothes and in 2018-19 we dealt with more than 5,000 tons of urban surplus material. We are blessed to have reached here, only because we nurtured relationships, credibility, trust and a better narrative.
LILA: You're trying to promote the self-earning capabilities of the villagers by purchasing and using products made by them. How does digital consumerism, which serves a rather colossal market, help in this initiative?
AG: One thing about the pandemic is that it inspired a quantum jump in the field of technology, especially with respect to digital platforms. The sheer number of digital start-ups that have come up in the last 5-6 months, be it B2B or B2C, is tremendous. Our approach and methodology for livelihood related initiatives majorly function on building interpersonal relations and having a human-centric approach; hence we're not dependent on digital market or any related aggregators. Having said that, we've extensively used various social media platforms for creating awareness and reaching out to the masses.
LILA: With the implementation of e-commerce, the concept of 'market' has gradually changed. How has this, in your experience, impacted exchange – on the one hand by providing more access, while on the other, reducing the possibility of interpersonal relations of exchange?
AG: I'll start with an example I have been giving for a while now – by creating roti.com, you don't offer roti to people. That's a huge misconception about technology or 'digitisation of environment' as we call it now. Yes, it is an enabler and has a lot to offer in making things smooth, but the fact also remains that it has made life very easy for a lot of people who have easy access and can afford such technology. We must have seen during the pandemic that many people were ordering food or other items and paying for them online. But we often forget that ultimately it is just the monetary transaction that happens online, everything else is actually happening via human resources. At Goonj, all of us experienced this first-hand. In a pandemic, when everyone is at risk, how do you deal with four million kgs of ration, which had to be delivered – the packaging of that, the sanitisation!
So, we need to be very mindful about the back-end systems. Consider the pizza delivery system. People took advantage, sometimes undue, of getting rewarded with an extra pizza in case of a few minutes of late delivery. But did we ever wonder whether the price of this extra pizza (a form of loss), is incurred by the company or the delivery boy, a human being? The profit is most certainly ours or the company's, but the brunt of the loss falls on the human being. I want to emphasise that technology notwithstanding, we have to keep human beings at the centre. There may be things we cannot see because technology has become the interface, but that does not necessarily mean that they don't exist. Financial transactions can happen in a click, so can food/clothes/materials be purchased and delivered, but everything else behind the scene happens because of human beings. And yes, it has definitely reduced the interpersonal interactions, because earlier a weekend or evening chit-chat with my local grocery store was usual, but now it's just the delivery girl or boy, and we have no emotional connection with them.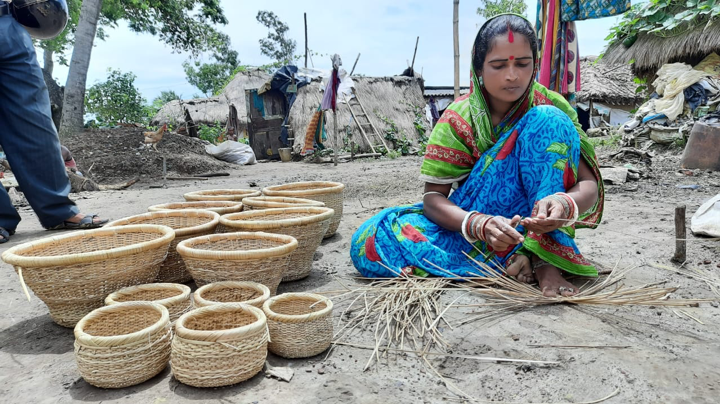 LILA: Women entrepreneurship is being encouraged by most of the public sector organisations. What do you do to support it against the prevalent face of patriarchy still culturally practiced in many of the states you work in?
AG: I would say that women entrepreneurship has definitely picked up, but it also has a lot of tokenism. In our work itself, more than 80% of the workforce is constituted of women, and we have seen them become financially independent. But we have also wondered whether being employed or being financially free has just burdened them with another set of responsibilities because a large number of men have now taken their incomes for granted without supporting the women in household work. So now, the same woman has to do all the household chores along with a nine to six job. I believe household work, from taking care of children to daily chores, should be an equal responsibility for the men too. This is the exact thought process which compounds into any larger women-related issues we talk about. Because if as an individual, I'm not mindful about women at my home and workplace, how will I create an environment which promotes women bosses or their promotions and success in the sector? Until and unless we don't show a positive and equal mindset at our homes or in our smaller circles, how do we practice the same in a larger scale?
LILA: While your primary purpose is ensuring dignity by providing a piece of essential cloth, is there any other essential sector where you would like to extend your initiatives? Please tell us about your future plans.
AG: The most common misconception about Goonj is that we are about cloth and disaster response only. In reality, we work on a widespread range of issues. I have always believed that if somebody gets Alladin ka chirag [a magic lamp], it is on that person to make use of it. In our case, this magical lamp is the value of grassroots wisdom, and, like I have mentioned earlier, the moment we come out of a donor-beneficiary mindset and start treating people as stakeholders, you get more support. Then, there are hundreds and thousands of people with whom you work together, supported by their wisdom and local/traditional resources.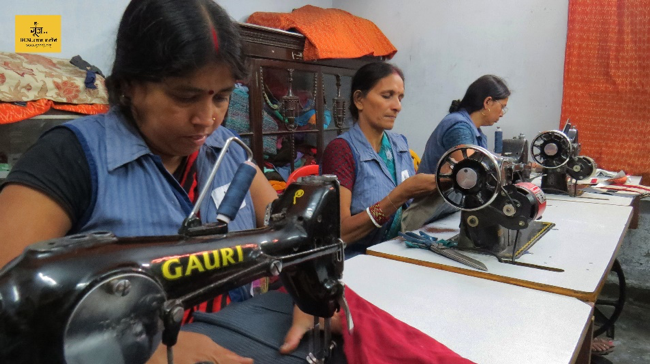 So that is how, we are one of the largest rural development organizations with a huge focus on rural infrastructure, sanitation and water. I think in the last financial year itself we have repaired/made almost around 500 kms of rural roads via such efforts, all using local resources and traditional wisdom. As an institution we have our major focus areas well spread – from menstrual hygiene (under the Not Just a Piece of Cloth initiative, to water through the Dignity for Work initiative. We believe that water is central to any community, because if you have a well-recharged water resource, its impact trickles down to development in education, work and health. So, through DFW we focus largely on water, rural access-infrastructure and plantation and environment. The 'Dignity For Work' is a flagship programme, where communities rally together to solve a prevalent issue in their surrounding and get rewarded by carefully processed family kits made out of pre-used or second-hand materials.
LILA: This will probably become a larger problem amidst the impending economic crisis, deteriorated by the pandemic, which has also worsened the gap between the so-called haves and have nots. How do you see this play out in the foreseeable future?
AG: One thing about disasters is that they act as a leveller. They don't differentiate between the rich or poor. But if you reflect on this pandemic deeply, you must realise that despite affecting equally, recoveries have not been equal. In other words, the so-called have-nots are facing greater trouble in recovering. Even when they struggle out of a hardship, any disaster that happens pushes them back into one again. Imagine, for instance, families risking everything by sending their kids to the cities to study or to coaching centres in Kota (Rajasthan) or Laxmi Nagar (New Delhi). It is not just about the kid going out for education but also the huge amount of hope and dream this move carries. I'm sure in the past couple of months we have all heard about how students dropped out of schools or colleges because their families couldn't afford the fees anymore, and this is after they have already sold everything to get their children to cities. So, you realise it's not just about an individual dropping out but also about the sudden death of aspirations and dreams that the families saw. So ultimately, this particular disaster has pushed people or the so-called have-nots to a deeper level of desperation and poverty. 
LILA: Based on your experience, what role do you think can an urban community realistically play to help make the unalloyed India thrive, particularly as now more than 122 million individuals have lost their jobs?
AG: This virus has given us an opportunity to understand the value of people whom we hardly valued or chose to ignore. We started to value small things; we learnt to do things which we never bothered with – from sweeping floors to washing dishes. So, I think it's important that we look within ourselves and identify the chance to correct our misdoings and failures. I say this because one of the largest parts of our population which stays in rural India have been used by the city-dwellers – you and I alike. Famers don't get any minimum wages for their efforts in feeding us, instead they get their prices subsidised. When they're not able to survive as a farmer, they migrate to cities in compulsion to become a plumber or driver or maidservant to take care of my necessities. It's a one-sided transaction, as we never take care of them.
With them gradually coming back to cities again or staying back at villages, I firmly believe that we're presented with a golden opportunity, a chance to pay back. We should use this opportunity, to literally stand with them, put in more resources to make a strong rural sector so that they too migrate by choice whenever they want, not by compulsion or hunger. I'm coming back to an individual – whether I am heading a Non-Profit Organisation or Corporate Social Responsibility wing of a company – it is the individual's responsibility to pay back and take care of the people who feed us and support our fragile eco-system. 
All images courtesy Goonj
Knowledge is power, and our intention is to bring the power to you. We have initiated a thought movement that aims to strengthen democracy by bringing to you direct voices of important trailblazers and pathmakers, and reclaim deep and patient reflection as an important seed for relevant and sustainable action!
Help us take this movement forward. Support Inter-Actions today for as little as Rs. 100.
Donate
Donation to LILA is eligible for tax exemption u/s 80 G (5) (VI) of the Income Tax Act 1961 vide order no. NQ CIT (E) 6139 DEL-LE25902-16032015 dated 16/03/2015