When I set out to do my Masters in Development Studies, I could not have imagined that my first job would be at a school hidden amidst the rolling hills, in a village a few dozen kilometres away from the nearest city. Five years of a rather serendipitous sequence of decisions later, I found myself packing my bags to become a teacher, a role I had never considered for myself. I still remember the day a student tugged at my kurta to get my attention: "Akka, he is waiting at the door for you only." It was then I realised that the "Excuse me, Akka, may I come in?" was directed at me. I was the Akka. I was in charge around here. The next two years were a series of lessons, for most of which I was not the one doing the teaching.
Much has been written and said about Vidya Vanam, the school for tribal and first generation learners in Anaikatti that is revolutionising the way education is experienced. The children call their teachers Akka instead of Ma'am or any variant thereof; they have theme-based learning instead of set curricula; and they work in subject zones instead of standard classrooms. The students interact with the likes of P Sainath, Aruna Roy and TM Krishna on a regular basis and the principal is universally Paati. Yet, for the two years that I was with the school, between 2016 and 2018, I had a fairly unique vantage point. The first set of kids were entering their last year of school and the two most senior batches needed to be prepped for the IGCSE exams, which was a completely foreign concept for them. And, on top of everything, I was teaching English to students for whom even Tamil was once-removed from their mother-tongue. IGCSE meant question papers from the UK, content whose cultural background and context was entirely British, and a listening exam of clips spoken with a British accent. Through my two years in the classroom, I had the privilege of watching first generation tribal children climb the mountain that is British-centric IGCSE English as a Second Language and how! 

TM Krishna (left) and P Sainath (right) with the students of Vidya Vanam
In my English classroom, all of us were newbies of some sort. A first time teacher was handling first time learners, and so we did what most first-timers do: we made up the rules as we went along. In the IGCSE classroom, we incorporated an element of choice with the Essay Box. I'd sit and brainstorm about fifty essay topics at a time split quasi-equally between narrative, descriptive and argumentative styles. Every day, the kids would pick a chit from the box, have a moment comparing notes and topics, and get down to work. We'd retire the box only after everyone had written about each topic inside it, and then there would be a refill. And so it went, until we ran through about four boxes, two hundred essays each. Slowly, as the boxes built up, the content inside them got harder. It got more foreign, more alien, more removed from the familiarity of the hills. These children wrote about everything from retellings of folktales to describing everyday objects to narrating Christmas dinners. And every time, they came back for more. As the Big Bad Exam got closer, they asked for special classes, and sat and worked with me for sometimes upto six hours a day. Given that every essay written needed to be corrected, I begged them to stop, but their retort was spot on: "Akka, you have students who want to study. How can you say no?" And I couldn't. For that year, we burned midnight and midday oil alike, barrelling towards the end line of foreign exams.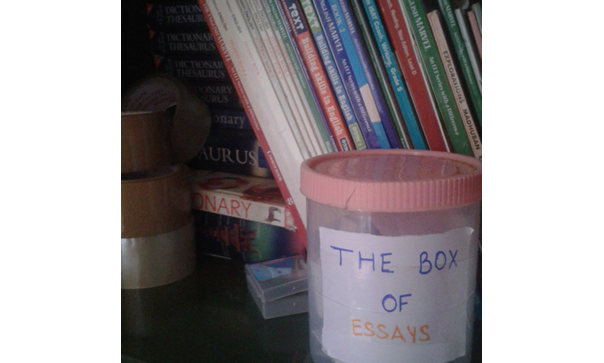 On the day of their first paper, I was a nervous mess. That afternoon, I had a "moment," one of those experiences that have come to represent the ethos and attitude that fuels the Vidya Vanam classroom. I had taken a minute to collect myself and calm my nerves before wishing them well and sending them off to their exam room when two girls found me at my hide out. They excused themselves, entered the room and patted me on the back. "Don't worry, Akka, we'll do well only. We've worked hard, you've worked hard, it will all be fine." I was stumped. Here I was, the teacher, thinking it was my job to be the responsible adult showing them the way, while these girls, minutes before what was thought of as one of the most stressful moments of their education thus far, had it in them to comfort me. These girls, the students who'd ask after me after a day's leave, the alumni who check in every once in a while even today, the sixth grader who'd ask me "why do you look so distracted, Akka? You aren't even saying good morning!" – these children were my personal everyday reminders to be present and engaged.
My days at Vidya Vanam were a blur of activity. We had board exam preparation in one classroom, while we played dustbin-sponge-basketball to learn articles in another. We had Annual Day and Sports Day and Project Day, while we also had corrections and assessments and lesson plans to create. The innovative and the administrative went hand in hand, feeding the virtuous cycle of growth – kids pushed themselves and demanded more from the classroom leading teachers to push their limits, resulting in higher standards, more innovation, and far more exciting classrooms than I could have imagined.
For two years, my life revolved around the comings and goings of that campus. My daily commute was the distance from my room to the staffroom, a total of a few dozen metres. The good days were when Ramesh Bhaiyya in the kitchen surprised us with dessert and our daily dose of joy was the adrak chai [ginger tea] he'd give us at 6 p.m. when the campus quietened down for the day. We had peacocks visit us for breakfast fairly often and every once in a while, a single crack in the distance would tell us we had a friendly neighbourhood elephant in the vicinity. Amidst this postcard-like existence, I learnt some lessons that have gone on to define everything I have done since. Check your privilege. Own your history. Never shy away from hard work. Be curious. Dare to dream big. No goal is too lofty. Today, many miles away and many weeks later, for each of these words I see a child's face flash in front of me – children who come from broken families, those who have grown up seeing hardship and difficulty that many of us can barely imagine, those who did not go Deepavali shopping because "bus ticket has increased from Rs. 16 to Rs. 23, Akka." On one of my early days, I asked my sixth grade class to build a sentence with "awe" and one child struggled to convey his thoughts. After some trial and error, he said "the flyover in Coimbatore filled me with awe", and I caught myself overwhelmed by a feeling that would become all so familiar in the next many months. It is a particular mix of gratitude, surprise and humility; that overpowering need to say thank you to all the children who spent time in my classroom for teaching me the "real world."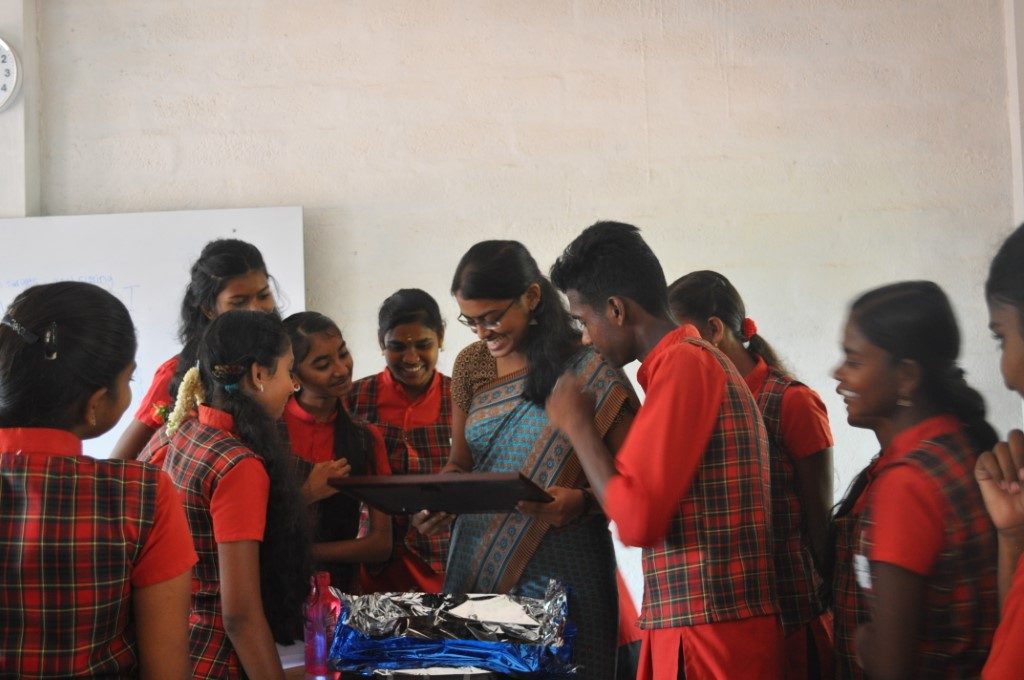 On June 5th 2016, I entered that campus, bags in hand and stars in my eyes, wanting to understand what "development" looked like "in real life". Armed with a degree and oodles of excitement to get started, I spent two years teaching, learning, and moulding the value system that would lay the foundation for the rest of my career. Over these two years, I mostly taught English. I taught prepositions and conjunctions and all twelve ways one can use a comma. I ran through more red pens than I could keep track of and experienced the joy of students vowing to always keep in touch with the written word. We watched Sherlock in class, listened to Paddington audio books, and called it academic exercise to familiarise ourselves with the British accent. There were days when corrections seemed never-ending, the restrictions of an external board exam were overwhelming, and the niggles of the everyday seemed more immediate than the bigger picture. There were a few days when I was not sure I was cut out for the job and many many more when I could not imagine being anywhere else. There is something about that school in the hills. Much has been written about the pedagogy and the philosophy and the "theory" that has informed the school's functioning, but for me, nothing brings the methodology and the attitude alive like stepping into those classrooms and greeting the faces of children who want to learn, want to engage, and want to grow. They are the real teachers here; the real changemakers and the pathbreakers. We all just got front row seats to the show.
Knowledge is power, and our intention is to bring the power to you. We have initiated a thought movement that aims to strengthen democracy by bringing to you direct voices of important trailblazers and pathmakers, and reclaim deep and patient reflection as an important seed for relevant and sustainable action!
Help us take this movement forward. Support Inter-Actions today for as little as Rs. 100.
Donate
Donation to LILA is eligible for tax exemption u/s 80 G (5) (VI) of the Income Tax Act 1961 vide order no. NQ CIT (E) 6139 DEL-LE25902-16032015 dated 16/03/2015