Harshita Arora
I'm Harshita Arora, a 17 year old engineer, scientist, and entrepreneur. I left formal schooling in IXth grade (~September 2016) and have been unschooling myself since then.
My decision was influenced by an exciting chain of events. I was introduced to computer programming by my Computer Science teacher in VIIth grade, and started learning to code using resources like Scratch and MIT App Inventor. A year later, when I was still obsessed with programming and the Internet, I started thinking about my future and ambitions. I decided that I wanted to become a great software engineer, and then a tech entrepreneur. I realised that I spent more than 60 hours a week at school and on doing homework in subjects I was not as excited by. I enjoyed the content of my math, science, English, and, of course, computer science classes, but not the teaching itself. I was not learning much by going to school everyday and always longed for holidays, half-days, and such so I could spend my time doing what I truly enjoy the most: learning and coding.
After a productive summer in IXth grade, I decided to try and figure out some way of not having to attend school every day. I tried to convince my principal to let me sit for just the exams, but he refused, saying that if my attendance was less than 75%, they'd not allow me to write the final exam and I'd have to repeat the grade. Frustrated, I looked to Google and Quora to find some hacks to avoid school. Soon, I learned about the practices of homeschooling and unschooling — both very foreign to me. I found some information on Quora (by a homeschooler in India, Aayushi Pandey), which explained how homeschooling works. I started scouring the Internet to learn more and understand whether I'd be considered a high school graduate if I chose homeschooling. Not finding definitive answers, I contacted Aayushi on Quora and she told me that she would be writing the IGCSE [International General Certificate of Secondary Education] exam in a few months, and the A-Levels exams in two years – which she had been able to register for at a school in New Delhi that allows homeschoolers to write the exam. I took her advice and started contacting schools in cities near my town, Saharanpur, to see if I could register for the IGCSE and A-Level exams there. I finally found Kasiga School in Dehradun that was willing to administer my testing. I had a conversation with my parents about it. They were hesitant at first, but they had grown frustrated of my complaining about school and saw that I was passionate about computer programming. I told them I'd start earning if I could have time to freelance. Dad and I made a visit to the Kasiga School and met up with the exam coordinator, who informed us about the deadlines and such for registration. That visit affirmed my Dad that I wasn't doing anything wrong or misguided, and I'd still be able to get a high school diploma equivalent and apply to college. My decision to drop out of school was approved by my family and I left school in September 2016. I got in touch with Supriya Joshi of ChaShak GuruKul, whose daughter's story I had read on the Internet. I quite admired that Malvika had won 2 IOI [International Olympiad in Informatics] medals. Supriya Joshi became my unschooling supervisor/facilitator – something I'm quite grateful for.
I remember, in the weeks after that I applied for many opportunities, internships, and programmes to get some real-world engineering exposure. I learnt about an internship programme that Salesforce Bangalore was doing in partnership with an organisation called Unherd. I applied for the internship and got selected! I interned at Salesforce in December 2016, which became one of the most important experiences in my career.
After returning from Salesforce, I started applying to summer programmes in the United States and got selected for MIT [Massachusetts Institute of Technology] Launch: a summer programme for high school hackers and entrepreneurs to incubate a startup over the summer. At MIT Launch, I learned iOS app development and developed an app called Universeaty with a team. After the programme, I explored the Bay Area for a few weeks, staying with a Quora friend of mine.
When I returned to India in September 2017, I was interested in working on more iOS apps to make my first real foray into entrepreneurship. I spent the next 3 months learning more advanced Swift and iOS from Team Treehouse. Then, I started working on an app for cryptocurrency portfolio management and price tracking, Crypto Price Tracker, which I launched in January 2018. To my surprise, it became the #2 paid app in the Finance category of the Apple App Store within just 24 hours of release. My post on reddit about it went viral, getting over 4,000 upvotes. My blog post on Medium about the whole journey, published on Medium's largest technical publication, freeCodeCamp, also got a lot of readers. Within a few weeks, the app got covered in major media outlets such as The Times of India, The Daily Beast, Inc, Bitcoin News, and more. I also received an email from an Apple App Store editor who expressed interest in covering my app for a feature! In March 2018, when the app was growing and getting 1000s of paid downloads, I got a few acquisition offers and agreed to sell the app to Redwood City Ventures.
My first startup was quite a journey. I got to share my story at a few conferences such as TIEInflect, CryptoChicks, TEDx, etc.
In May 2018, I moved to San Francisco to be in the main hub for startups and surround myself with other ambitious and smart people.
In the past year, my focus has been on brain-computer interfaces.
I could not have pursued my ambitions and interests had I not dropped out of school. I encourage other young ambitious people to consider the possibility to unschooling themselves. I have not stopped my education – I am continuously learning from Khan Academy, textbooks, and mentors.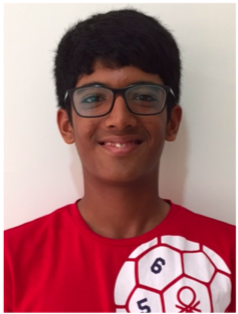 Aradheea Gawde
I started homeschooling a year ago, and so far it has been the most important decision of my life. I have had the freedom and space to pursue my own interests and learn at my own pace, and the curriculum I follow is specifically tailored for me.
The deciding factor behind this seemingly unusual decision was my interest in studies and passion for golf. I have been practicing golf since I was six years old, and I used to spend a significant amount of time improving my game. Lower grades allowed me the flexibility to balance my schedule between academics as well as sports, but the time constraints and demanding workload of middle school started weighing me down. I still remember the feeling of being bone-deep tired after returning late at night from the finals of a National-level tournament held in Chennai. I had to wake up at five in the morning the next day, to prepare for an exam being conducted at eight. Moreover, I had already missed two of my term exams to play this tournament.
Several incidents like this made me feel like the school curriculum was not designed for someone like me: someone who wanted to pursue intellectual interests as well as play competitive golf. This feeling compelled me, as well as my parents, to look for alternatives that could help bring more balance to my life. Homeschooling came up as an attractive option. However, since this was unexplored territory for us, we sought help from Mrs Supriya Joshi, who provided immense support.
Homeschooling has several advantages over regular schooling. My education now follows the path of my interests and initiatives, instead of merely shaping them. I have a more of a hands-on approach to learning than before. I have more time to deeply explore my interests and act on them, such as investing my pocket money in the stock market and studying the way the share prices behave. I have acquired more practical knowledge and discipline by being on the golf course than in school. On the golf course, I am also able to meet more people and having thoughtful conversation with them, unlike the overcrowded classrooms and lack of creative teaching in school. Homeschooling has helped me overcome these shortcomings of a traditional school system.
Despite these paramount advantages, homeschooling is not an easy path to walk. Having so much time on my hands means my parents and I have to be very efficient in organising and planning my schedule, which covers studies, hobbies and golf. I am always on the lookout for new resources for my studies and it is up to me to learn new concepts, study different subjects without having the constant help of a teacher, and try to be as exam ready as I can with minimum amount of adult guidance. As a 13 year old, learning on your own can be challenging, especially when I have several questions regarding the new material I learn. My parents are also unable to help me as extensively a teacher would have been able to. In spite of having the motivation and the drive to learn, it is hard to find the right support system.
Homeschooled kids are challenged and tried in ways a regular school going student may never have heard of. It requires fierce determination and careful planning to keep going and stay on track with a chosen curriculum, so that the child is as well learned and informed as a regular student, if not more so. It has to be a seamless blend of pursuing your own interests as well as learning general life skills, and the parents as well as the child have to be active in finding resources that help fulfil all these aims. Homeschooling also leaves children vulnerable is aspects such as social interaction, but finding different people who have similar interests as you is the key. My Golf tournaments ensure that I am always in the company of my peers, and I am an active participant of the social scene.
Choosing to be homeschooled might seem challenging initially, but after figuring out the small details and initial hurdles, it can be the most enjoyable and rewarding experience. I am on the way to achieving all my goals set for next three to four years.
Knowledge is power, and our intention is to bring the power to you. We have initiated a thought movement that aims to strengthen democracy by bringing to you direct voices of important trailblazers and pathmakers, and reclaim deep and patient reflection as an important seed for relevant and sustainable action!
Help us take this movement forward. Support Inter-Actions today for as little as Rs. 100.
Donate
Donation to LILA is eligible for tax exemption u/s 80 G (5) (VI) of the Income Tax Act 1961 vide order no. NQ CIT (E) 6139 DEL-LE25902-16032015 dated 16/03/2015