As i write this article the world is changing – new policies are being written, new social norms are being popularised and a new normal is being created. Although this "new" is not really very new in the way it upholds systems of oppression — it is still very old and dated — but we are a hopeful lot and we like our dreams. i have never felt more strongly the privilege of being an artist, in making people aware of their feelings, than amid the global pandemic where we have all in unison been trying to make sense of the situation that we are in.
my small journey of practising art as a self-taught artist has brought me to discover new meanings and ways of healing. It is this singular quality that keeps me creating, writing, reading, thinking, and articulating, despite the demands and conditions of the market-driven, caste-ridden, racist society, which has put me and my work through the abuse of praise and criticism that always misunderstand, either in their dismissal or in their overemphasising of my marginality.
Everything in my practice revolves around healing and is informed by indigenous resistance and ways of being. i acknowledge our elders for instilling in me a practice of community healing; i knew from the very beginning that we cannot feel whole until everyone feels whole. This belief was further made stronger by reading feminist text and feminist theory as it filled me with courage in embarking on a journey to become an artist in the service of the community.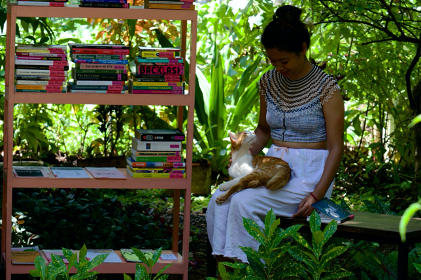 Focussing on the community also meant that i could be completely free in my practice from the pressures of recognition, glamour, authority and the pedestal that artists are put upon. This allows me to be soft and constantly check myself when i stray from my path of healing in the community. i often ask myself: who are the people i'm building connections with? what kind of connections are these and how are these connections bringing about community healing?
It was from these desires of building spaces that aid in healing within the community that Sister Library was created. It is a space that celebrates female excellence, a space that i longed for and dreamt about where there are books and people from all walks of life coming together to see the world from a different perspective.
As a caste society, we cannot deny the epistemic oppression which continuously hinders contribution to knowledge production. Since libraries are spaces of accessing information and knowledge it is a space where i experience epistemic oppression in so many forms, from the architectural design of the space to the books on the shelves and of course the staff and the people that access these libraries.
The contradiction of emotions i felt when i read the books and the emotions i felt when visiting the libraries was unsettling. These spaces had to be reimagined, redefined. So i thought lets creatively and vividly combine reclaiming and art-making. Thus was born Sister Library, an evolving and generative artwork that engages with the visual and reading culture of our times.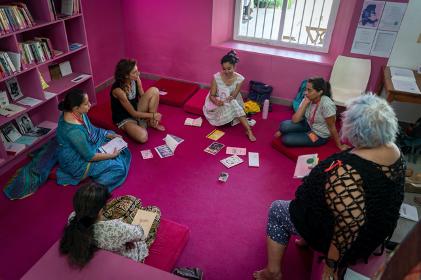 Then, is it a feminist art project? Is it an educational installation? Is it an archive? It is all of the above and more.
It is everything one would want it to be. i imagine it being a space to meet and interact with people who otherwise are considered invisible; for the women who use the space to rest in between their shifts of doing housework at different apartments in bandra, while for someone that works within the academia it may be an inviting space to see theory in practice.
Fortunately, for me, it is a space that brings people together, and in that, it is a small world of subversion. It is a dream i shared with the world and it brought me closer to people who dreamed and imagined with me this space, one that could only be realised by coming together. In 2018 i started a crowd funder to raise moneys to start a permanent physical space for Sister Library after having travelled to almost all the major cities in India. In May 2019 we started the first community-owned, community-run feminist library of South Asia. i brought a thousand books from my collection along with five hundred zines, posters, community newspapers and other paraphernalia.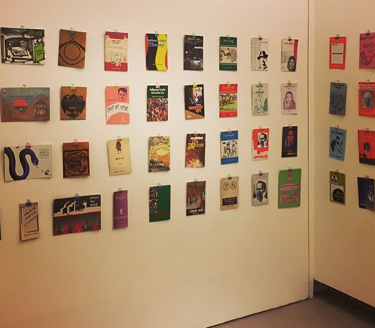 In the past year, Sister Library travelled to major literature festivals, collaborated with international cultural and educational organisations and is now part of two libraries, the Samoa House Library, a community library in Auckland formed as a response to the University (of Auckland) Art Library shutting down and the Goethe Institute Library in Dhaka.
Sister Library is temporarily closed due to the lockdown, but it is usually open Wednesday – Sunday 2.pm. onwards. The space is run entirely by volunteers, the library is what it is today only because of the involvement of the people and the ownership they claim over the space. Centring the needs of the community, programmes are designed in collaboration with the people who use the space. It is entirely because of the community involvement that the programmes are so diverse and holistic, dancing at the edge of art and activism, formal and informal, political and poetic and presenting people with the challenge of accepting the multiplicity of perspectives and experiences of the world we live in.
All images courtesy aqui thami
Knowledge is power, and our intention is to bring the power to you. We have initiated a thought movement that aims to strengthen democracy by bringing to you direct voices of important trailblazers and pathmakers, and reclaim deep and patient reflection as an important seed for relevant and sustainable action!
Help us take this movement forward. Support Inter-Actions today for as little as Rs. 100.
Donate
Donation to LILA is eligible for tax exemption u/s 80 G (5) (VI) of the Income Tax Act 1961 vide order no. NQ CIT (E) 6139 DEL-LE25902-16032015 dated 16/03/2015