LILA: You are famously counted amongst some of the most politically driven artists of our time, owing to a deep resonance of your work with historical events and issues of human rights. You also come from a background of much political energy and activity. Please tell us a little bit about your background that has shaped your practice…
Probir Gupta: First and foremost, my father, Nirmal Kanti Gupta, was a freedom fighter. He was at university in Calcutta (Kolkata) before 1947, and was rusticated from Scottish Church College because of a speech he gave on Quit India movement. He had also defeated the ruthless former chief minister of Bengal and former governor of Punjab Siddhartha Shankar Roy in the All India debate in 1941 – 1942. He was a contemporary of the fiery revolutionary poet Sukanta Bhattacharjee, though his poems have remained majorly unpublished, apart from journals. My mother, Kamala Gupta, who was a social worker and a self styled artist, has been a constant inspiration in all my engagements, mainly helping the physically ill and the underprivileged.
My uncles, on both my maternal and paternal sides, were also freedom fighters. So I come from a society in Kolkata, where politics was the main subject of discussion during my growing up years, and in my mind, politics started in Kolkata. In 1982, I moved to Paris for my education, but eventually wanted to come back to my country. I confronted issues that made me reflect on colonialism and oppressive attitudes among human beings. I had a girlfriend at the time, who wanted me to accompany her to America on a month's holiday, but I didn't go because, from my reading of newspapers as a teenager, I had absolutely no doubts that the US was a racist place, and that feeling was still there. So I had these little feedbacks throughout my life.
Another influence on me, though disjointed, was music. I was introduced to blues and jazz from a very early age. In Paris, I had friends who worked for radio stations, at jazz cafes, and were organisers of music events. The best music, which I had started appreciating, was coming from the Afro-American musicians. I sometimes got the opportunity to speak to the performers, and also, during their performances, they would speak quite a bit about their background. While performing they would stop and recount anecdotes of torture, abuse, or brutal discriminatory acts. I had been listening to these stories, and observing the lifestyles of people – where they come from, who these musicians were, etc. All these stories and experiences shaped me.
I wanted my art practice to focus on people from diverse communities, and their situations, and always tried to make them speak through my work, as these reflected the social, cultural and political. When I got back from Paris, I didn't have a job, and would wander around Kotla Mubarakpur, which was a market visited by the middle class or lower middle class sections of Delhi. A typical Indian market place like this, with its havelis and a lot of Mughal architecture around it, became a huge point of attraction to me, especially after the recent Western experience I had had. I was keen to get closer with people who were socially and economically marginalised; in fact I, found them to be much more generous, friendly and warm than others. I made friends with a potter, with whom I would have chai and talk about what he does, and where he comes from, how he set up his potter's wheel, about his family, and so on. Also, the lady (Rajwati) who used to work for us was a Dalit, through whom I found out about the discrimination her community faces. I had never seen such discrimination growing up. So, my horizon started expanding, and my contacts with people I wanted to know started spreading.
Later, I started teaching at The French School, where majority of the kids came to India and unfortunately left without knowing much about the country; and they would leave with a negative impression. So I proposed a project to sensitise children from the privileged backgrounds, and to introduce them to areas of social issues related with indigenous art practices. I ended up roping in about 15 or 16 schools in Delhi, and around 7-8 students from each school, from the age of 13 years onwards, participated.
To give you an example, one of the projects we did was on child labour called 'Kites of Freedom'. As part of the project, I did some research on kite making, and came to know about its history, evolution, and the cultural practices attached with it. Since I was looking at the aspect of child labour, I also went to the International Labour Organisation, and came across documentation on child labour in the areas of agriculture, bangles, firecrackers, carpet industry, etc. Based on this research, I put together a semi-seminar (nothing too heavy) to present what kite making is about, how kites were made, and myths attached to kite making in different parts of the world. As for example, in Japan, they made kites to inform the neighbourhood that a male child was born in the family. I came to the aspect of child labour, with the kite symbolising freedom and the education that the children require. The project sensitised children from the privileged and non-privileged backgrounds and brought them close to each other.
I also did a project with around 150 students from various universities of Delhi about violence on women. The students were divided into groups of 6-7, and each group interacted with one victim who was under rehabilitation. Each case would be studied, and the questionnaire would be prepared. During the interaction, some students would capture the victimised woman on camera as well as record their stories. Each group had around 10 sessions with the women, and each session lasted 3-4 hours, because these were victims who wanted to speak and share every little detail of their pain and agony. The work on this project, titled 'Eye Reveal', continued for 9 long months.
This was also shaping up as a public art project, which allowed me to work outside my studio for the duration of the project. Such interventions and projects introduced me to different forms of human violations and related issues, and their nuances came to set in my work also.
LILA: You have talked about the different kinds of projects you have done, with people from various demographic sections. Art is often considered to be something that is set in a niche space and engages with its own self-expression. Through these activities, how do you see it breach into a space of social critique and impact as well?
Probir Gupta: While working on these projects with young adults year after year, I was getting exposed to multiple areas of human rights violations through the initiatives taken by these NGOs. Coming back to Eye Reveal, the students were thoroughly introduced to the running of an NGO, the people who worked there, the mobilisation of funds, and how the victims got detected and were brought in. There were chilling stories recounted by agents from the NGOs who were responsible to identify and bring out these women for help and rehabilitation. At times these agents even risked their lives while bringing a victim out of such machoist ghettos.
So I started developing a great fascination for the people I had been meeting at the NGOs. And most of the times I would come across people who were highly qualified, and dedicated. They worked for peanuts, but were driven by absolute, pure and simple dedication.
These exercises often allowed me to think of creating joint manifestations, bringing people from the visual arts and social workers from the NGOs together, on the the same platform, as I am still convinced that these joint ventures would sensitise more and more people and start eliminating different oppressive practices against women, even if it was a drop in the ocean. In 2003, I did a personal project called 'Transparencies in Black and White'. I used photography and 3-D objects. The candid part of photography was of people and the spaces where they lived, the objects they used, and their situations, which were never abstract. A layman could easily identify with these visual links. I also used sound and short write-ups, which were not heavily discourse oriented.
So that is what I was involved in – how could I make a work speak? Even if I didn't manage to change the society at large, how could I make them think and participate?
There has been a great deal of interest and sensitisation through these projects, especially with the young adults. A lot of university students wanted me to put them in contact with NGOs where they could go and help with some activity or the other. So there was already a mobilisation of people to help the neglected and discriminated. This has been my preoccupation for a long time, and continues to be.
LILA: What is your take on such a language of art – that doesn't require much discourse-oriented text to explain things, but can still make the works accessible and impactful for a cross section of audiences?
Probir Gupta: The language of art can be shaped in a way that it makes people react and helps them identify what the work is about. It's like reading a book – even if it is fictional, it is about something that is happening around you. I would have loved to be a filmmaker, or written lyrics for music; been a photographer; a journalist; or a writer, if not a visual artist. When I contemplate on a particular subject, the subject itself helps me to decide its representations – whether it should be in 2-D or 3-D. I'll give you an example: I accompanied a journalist to Muzaffarnagar after the riots in 2013, where only seven women came out to speak to us about their ordeal. When you are in such a space, you come to know that people from different communities have been living together for generations – someone had been selling vegetables in the village, someone was the village tailor, someone was the rationwaala. These were the men who took turns raping women they had known for years, or had seen them born as well. I had looked at pictures of burnt houses, and completely ransacked houses set on fire. When we reached, there was still smoke coming out of some spaces. Black.
Based on this experience, I presented a work at the Kochi Biennale. I required ECGs of people suffering from paranoia, which I collected from the net and a few clinics in Delhi. The eco-radiography lines were etched on both sides of bricks to make a wall, which was then transferred onto fibreglass. For me, it was like making a wall commemorating the rapes in Muzaffarnagar because these were walls that stood as a witness to what was going on there. On top of the wall was a piece of upholstery resembling comfortable sofas with an over-erotic and voluptuous surface. There were long strands of women's hair suspended on both the sides of the sofa, like upholstery. I associated this with the aspect of comfort, as for example comfort women from Korea who were used by soldiers from the Imperial Japanese Army. It happened in Rwanda, it happened with the Azidi girls from Iraq who were sent to camps and raped. And it is happening to the Rohingya women. So my work was a total construct, where the point of departure was the rapes of women in Muzaffarnagar, but it was also talking about the sexual oppression of women in conflict zones across the world and history.
Similarly, music (especially jazz for me, as I mentioned before) also presents an interesting language to work with. Christian Scott a renowned young black Jazz trumpetist from New Orleans once recounted to the audience about being harassed and threatened by cops on his way back home from a gig. His car was stopped, a gun held at the back of his head, he was asked to remove his clothes and lie on the floor. He was told that if he didn't obey, his mother would have to come the next day to collect his dead body from the morgue. The anecdote was followed by a piece without any lyrics.
From his first blow on the trumpet, his pain and agony flowed with passages of turbulence; his music was weeping and soaking in melancholic notes of blues. This kind of music has its own history from the days of slavery and continues to flow in the most powerful manner. The black musicians remain the Masters of this genre.
Abstraction sans lyrics is not abstract, it comes from what happens to us and our reactions to what we see and what keeps happening around us. It is not a portrayal of the unknown. (Picasso's series from the Blue Period, though figurative, does echo similar emotions and situations of people.)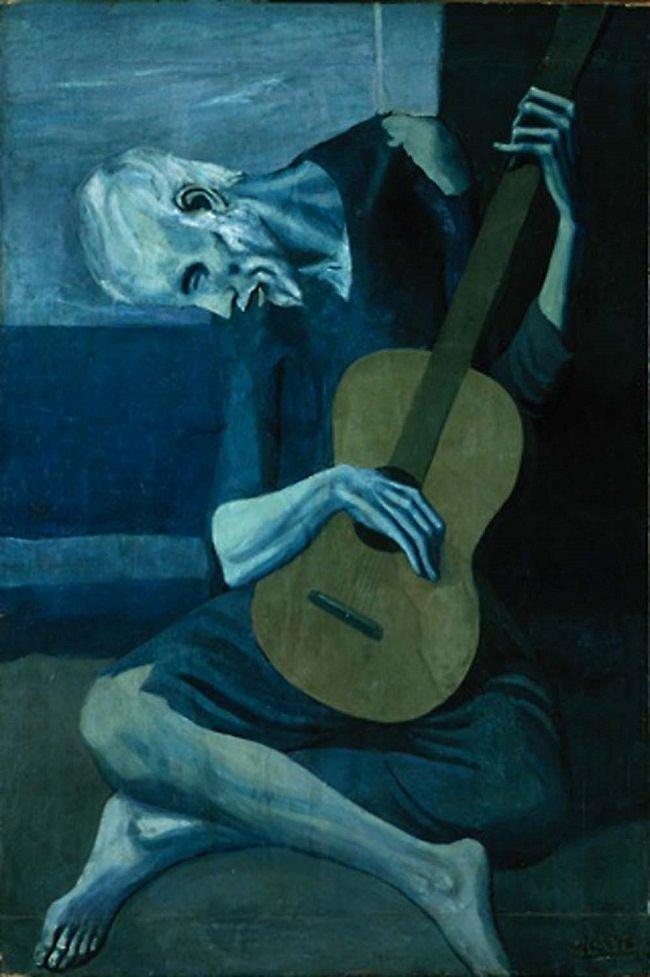 My works manifest against bad governance and human rights violations. Music, predominantly jazz, is a major component in all my works. 
In Jazz a span of time is composed in layers. These layers of sound variations, like multi structured constructions of mesh, are intricately woven through oozing emotions in the most revolutionary manner. They reveal the symbolic and the spiritual within and not the abstract – long vibrating  notes with keys against keys, creating the balance. Miles Davis said in 1989, "when I look at a piece of sculpture or paintings by Kandinisky and Picasso, I see keys against keys, layers and layers where there's no fear, they are beautiful and I would think why can't I do it in my music." Kandinisky liberated and allowed each and every object required in a work to take its own form and position. They are not the nonexistent.
The forms in my works are figures and structures, distorted, simplified and stylised and they do loose their identity while articulating, to set the tone and reveal the mood of the work as it should happen, like the improvised articulations of the musicians.
In layers and layers of lines, armatures, structures and paint are images in Black and White symbolising and portraying the real. I follow a documented subject with images and texts on people and situations which have happened and are recorded by me or the media in Black and White, e.g. like in my sculptural work titled 'Time Is The Rider', based on 20 women refugees singing to pray to the snake goddess for their safety.
My images in 2-D or 3-D are compositions of long notes. Jazz is an integrated part of my works. The complex constructions are rough in a saturated surface resonating in weeping Blue notes. I don't like a perfect image, I like it crude and fragmented, they hug each other, they are an ensemble of emotions. My works often resemble a saturated scrap yard, dismantled and disjointed, setting in situations of our times. I don't waste any phrases like Miles says.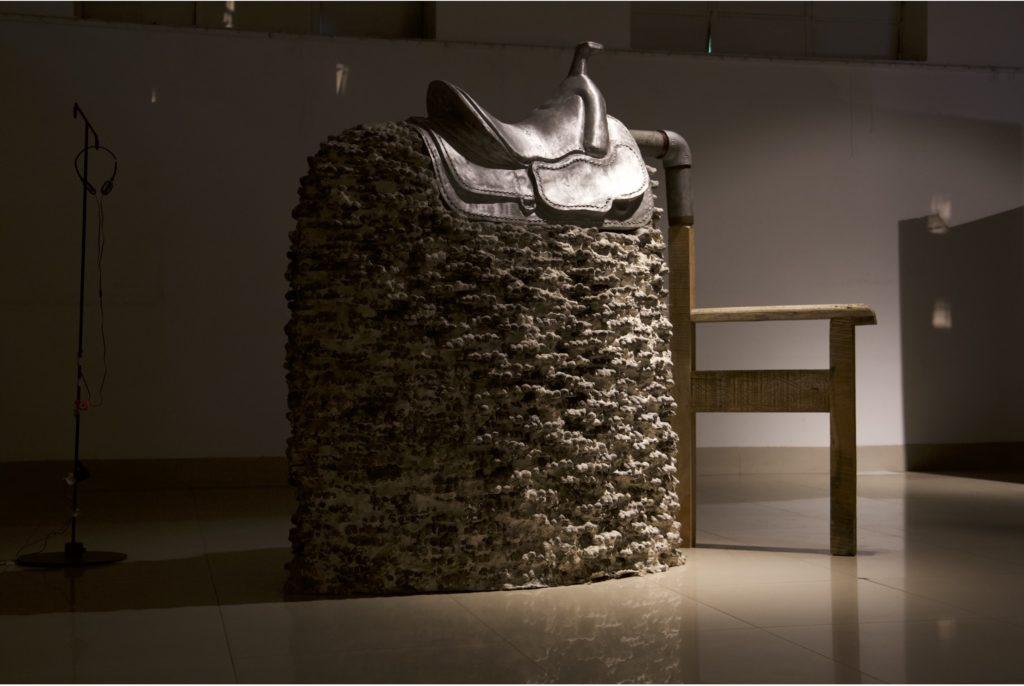 This is how I build my work. Whether it is in 3-D or 2-D, people should know what they are looking at. In our country, it is very sad that people do not look at the arts as a contemporary media, like they would read a newspaper or watch a film or read a book. There needs to be a cultivation of the visual language in our societies.
LILA: Let us talk about art education in this light. Do you approve of how art education takes place in the country today?
Probir Gupta: I think education is changing; it's going through an evolution. But I have always believed in moving out of the white cube – from the interior to the exterior – which is when you teach them to observe: this could be nature, people, objects, and many other things in our surroundings. When you are speaking through the visual language, you need to have a thorough research and engagement with the subjective issue that you are dealing with.
How do you make young ones observe things? This happens in stages. First stage is preliminary, like drawings from forms of nature. And then you make them slowly migrate to focus on social issues and delve deeply into the subjective elements. You start brooding about the choice of objects and forms that would be required to illustrate your subject, which is when your visual vocabulary develops. To see one tree chopped off, and one tree burnt, this could speak volumes about so many things – about ecological destruction, human destruction, or cruelty and brutalisation. Similarly, we can reference events from history that we observe to be recurring today. So art practice doesn't mean that you must only look and appreciate the aspects of aesthetics in art, or the visual pleasure of art. It should speak about the times that you are living in and your environment. I think you have a responsibility in doing it.
LILA: One of the problems that students from art schools often face is the competition once they enter the art world…
Probir Gupta: That I don't know. I don't think there are any shortcuts. A good work, by a person who is serious and motivated, and can build bridges… you have to be active enough to be able to connect with people around you. That is something I have always been trying and doing, and I feel it is the most essential.
LILA: On a concluding note, how important do you think it is to nurture art practice at the school level, especially since this kind of perception and language requires development through the years?
Probir Gupta: I don't know, I think it is impossible for the teacher today. In most cases, a teacher is overburdened with anywhere between 40-60 students in a classroom. When I went to school, we had not more than 15 kids in a class. And once in a month we would have something called the Sahitya Sabha where we would have the liberty of dressing up the way we wanted. We would have a day-long session of song, dance and improvised-skit performances, as well as reading sessions of our self-written poems, essays, and short stories. This is what helped shape us to become what we are today. It was the encouragement we received to do what we enjoyed doing. And this way the children could realise what they liked.
Students in higher classes are asked to choose whether they want to take science or arts. This could be also an observation made by teachers till a child is in the 5th or 6th standard. In my school, the teachers noted the child's likes and capabilities, as well as the results of allowing the child to pursue them. That is what is essential. Today, the schools are commercial centres, where the teachers are overburdened. So nobody has that motivation.
Methodologies can be invented, created and designed. For that, a whole system needs to come up, and the institutions must have the desire of bringing up good Samaritans who would be sensitised to engage with social, ecological and environmental requirements of today.
Knowledge is power, and our intention is to bring the power to you. We have initiated a thought movement that aims to strengthen democracy by bringing to you direct voices of important trailblazers and pathmakers, and reclaim deep and patient reflection as an important seed for relevant and sustainable action!
Help us take this movement forward. Support Inter-Actions today for as little as Rs. 100.
Donate
Donation to LILA is eligible for tax exemption u/s 80 G (5) (VI) of the Income Tax Act 1961 vide order no. NQ CIT (E) 6139 DEL-LE25902-16032015 dated 16/03/2015