Having lived for about a decade and a half with the Theyyam people of Malabar as their dear 'amma', renowned writer and photo-documenter Pepita Seth has a rare perspective of the way of their deities. In the ritualistic tradition of Theyyam, knowledge is passed from the older to the younger generation through a child's direct contact with his guru. Although much must be specifically taught, there is also much that is absorbed simply by growing up in an atmosphere where Theyyam pervades.
While Theyyam is mostly seen in the compounds of small shrines that belong to various communities, it can also be performed at a family's ancestral house or even in a field that is temporarily sanctified. Even now Theyyam can perform the critical social function of highlighting injustice and balancing the inequities that exist between castes. Communities like Vannan, Malayan, Velans and several others are among those holding the traditional right to 'carry' a Theyyam (derived from 'daivam' which means 'god'.)
Featured here in a few shots by Pepita Seth is a remarkable sequence from the performance of Kothamuri – from Godavari, the divine cow – done to please the goddess Annapoorneswari in her Cherukunnu temple. Traditionally it happens during the off-season, a fallow time when Malayan families would visit rich upper caste families, often spending 3 or 4 hours in each one, even the whole day, going to several houses during the 3 week season. They would skilfully extract whatever they wanted from the landlords during the performance – demanding coconuts, vegetables and rice, clothes. When given rice, they would demand more, knowing that since it was the harvest season and labourers were bringing in all manner of produce no one could say that there was nothing to give. It was done with humour and a clever turn of words and phrases, many with double meanings – described as being x-rated to please the tharavad's men. Since their demands were skilfully laced with teasing and humour, they got away with it.
Yet when education became mandatory Kothamuri was stopped; no child could ship school for 3 weeks. However a time came when there were signs of trouble and unease in the Cherukunnu temple. An astrologer was called, and a prasna conducted which soon revealed that Amma was unhappy about Kothamuri being stopped. It was revived, for just one day every year.
Kothamuri performance was also done to familiarise children with the wearing of makeup and costumes and 'performing'. It is still one of the few occasions where a girl comes close to being able to 'perform'. The pictures below show the phases through which little Shivapriya is transformed into Kothamuri.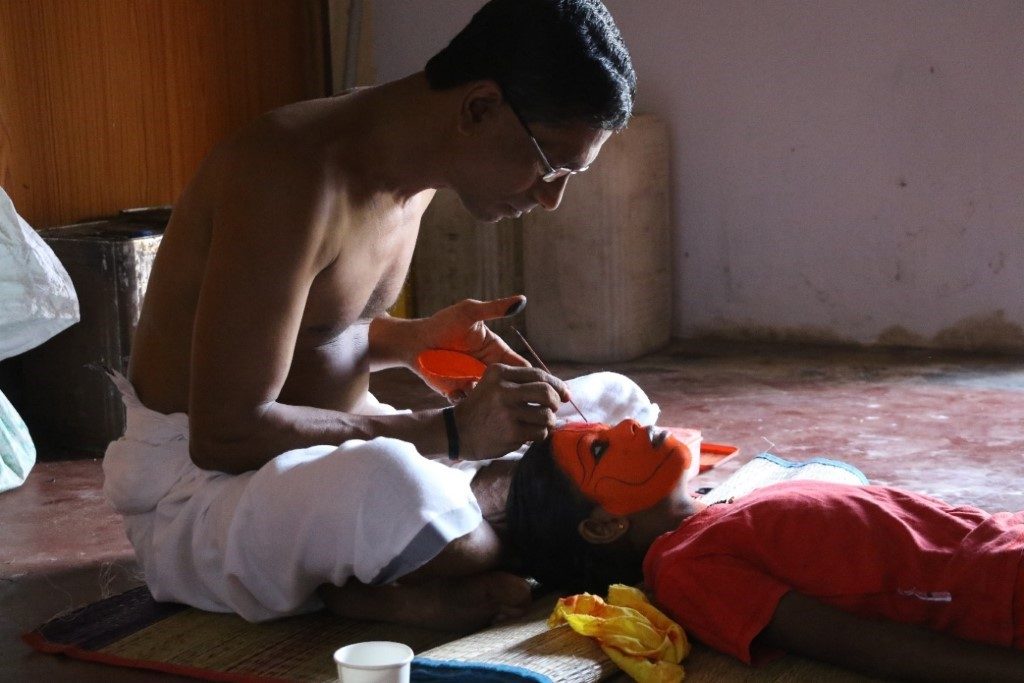 Shivapriya gets ready in a small hall next to the temple. The 'face-writing' is being done by her uncle, Murali Panicker in whose house Pepita primarily stays during the Theyyam season, which explains her rare access to this scene.
Shivapriya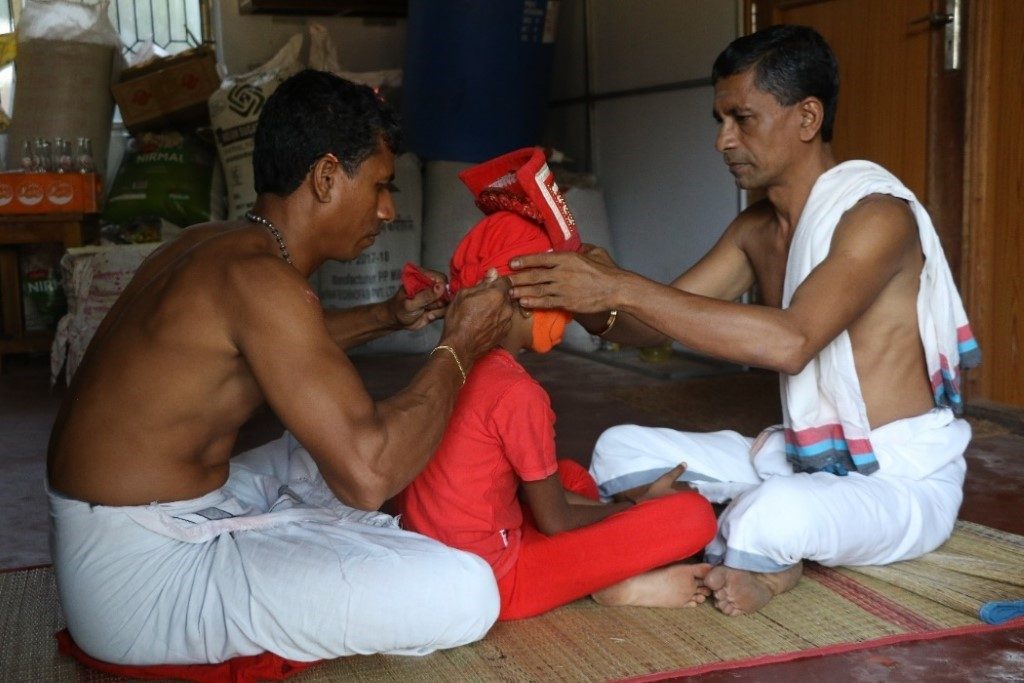 Dressing…..the other man, Rajesh Panicker is Shivapriya's father.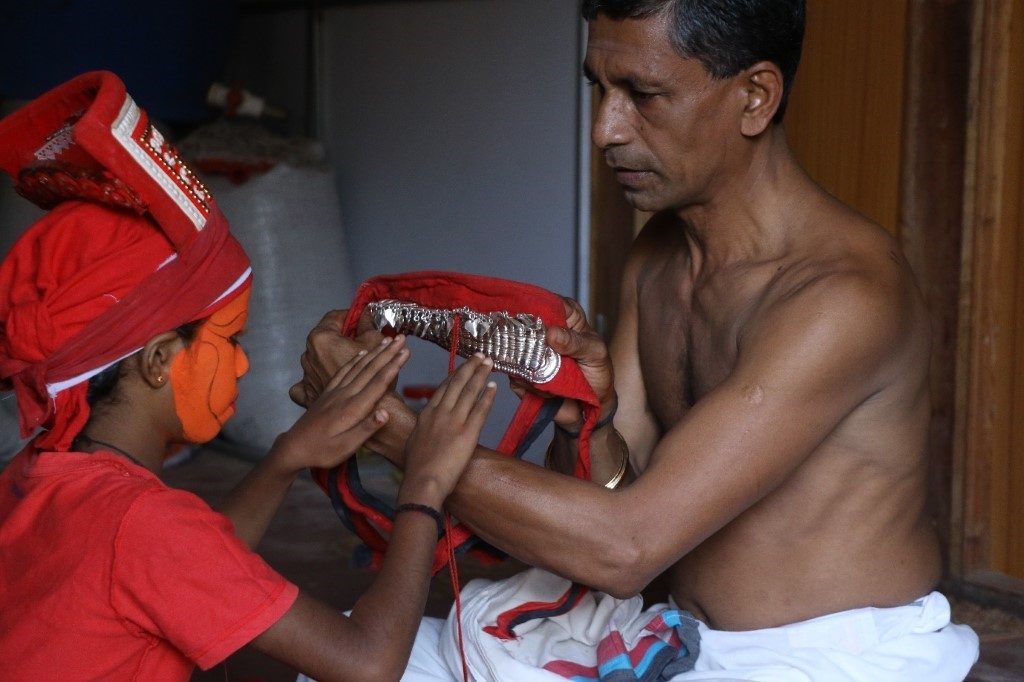 Showing reverence for the thalapalli, the most sacred part of a Theyyam costume. The small dangling pieces represent the 21 'great' gurus.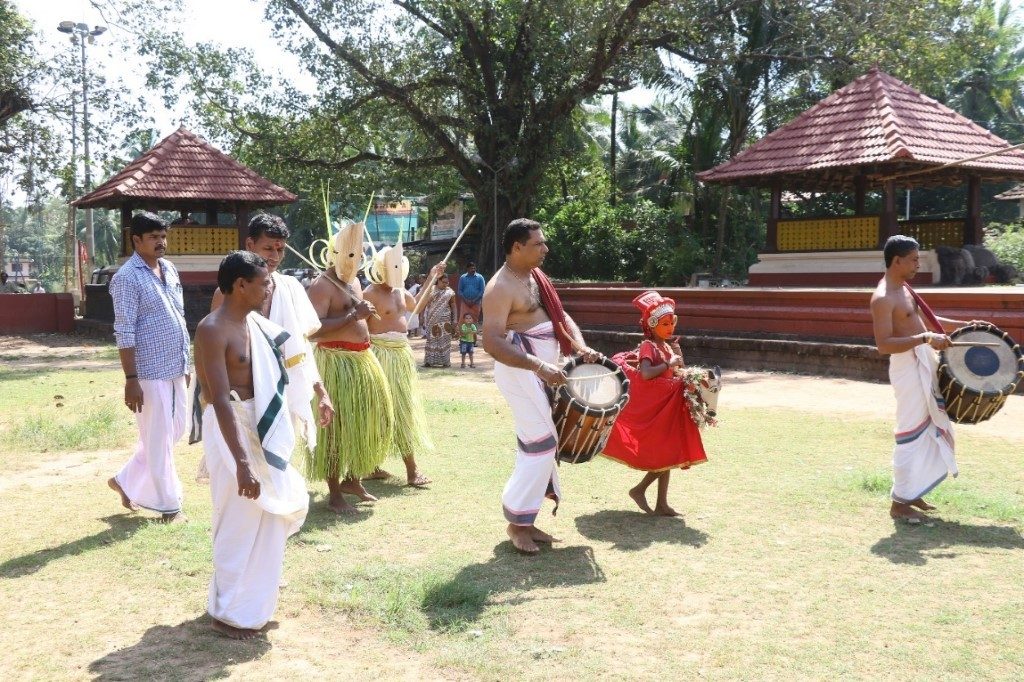 Moving closer to the temple – now 'riding' the kothamuri…accompanied by the 2 masked paniyans – Amma's retinue whose 'fast tongues' play a huge role.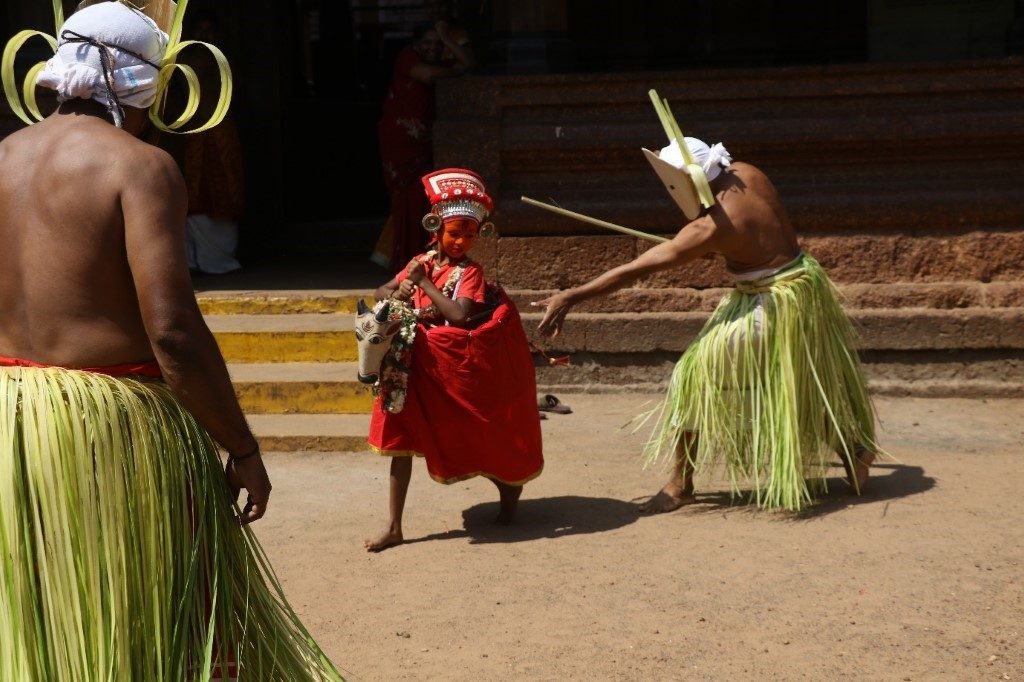 Their interaction…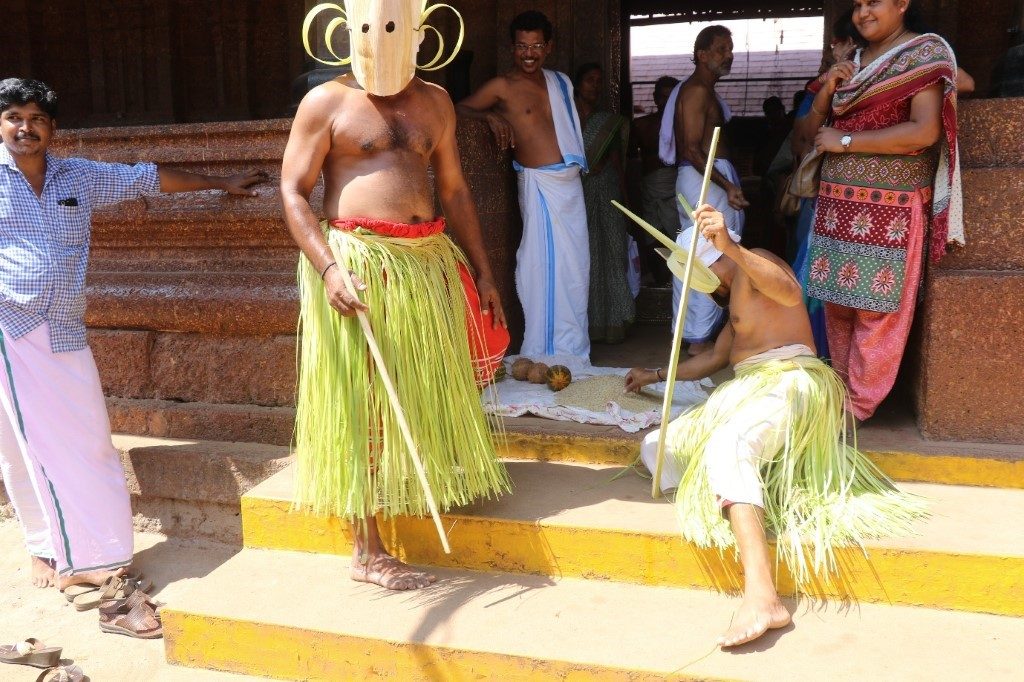 Examining the rice given by the temple – and finding it wanting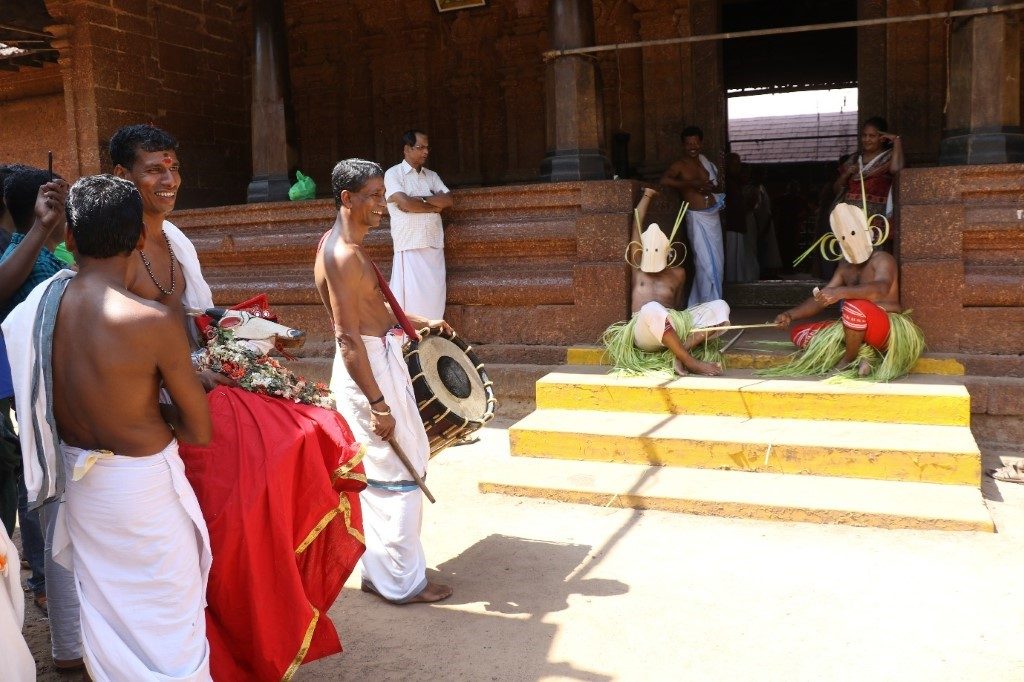 Laughter all round…
(Shivapriya is no longer 'riding' the cow)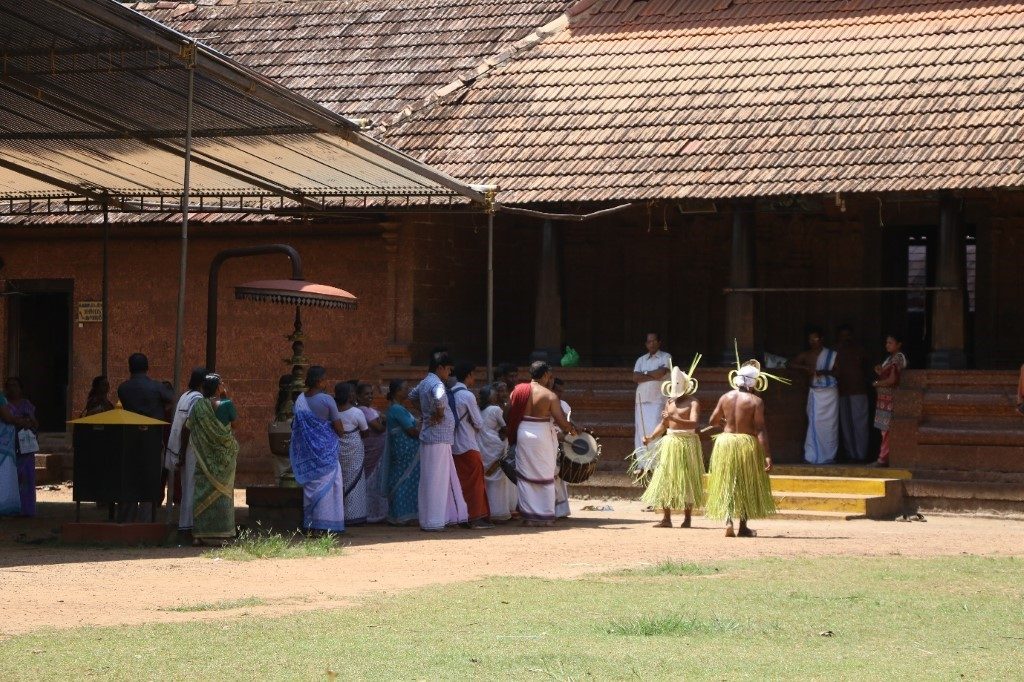 The text and images are from Pepita Seth's forthcoming coming book on Theyyam practices in Kerala
Knowledge is power, and our intention is to bring the power to you. We have initiated a thought movement that aims to strengthen democracy by bringing to you direct voices of important trailblazers and pathmakers, and reclaim deep and patient reflection as an important seed for relevant and sustainable action!
Help us take this movement forward. Support Inter-Actions today for as little as Rs. 100.
Donate
Donation to LILA is eligible for tax exemption u/s 80 G (5) (VI) of the Income Tax Act 1961 vide order no. NQ CIT (E) 6139 DEL-LE25902-16032015 dated 16/03/2015