I would regularly visit the Jadavpur coffee house after college hours. Named as a 'house', it was really just a huge room with ample number of cheap wooden tables and more number of chairs, bordered with large windows, always open. The tables were always full – the smoke so thick, particularly in the evenings, and the noise so high, that the people sharing a table had to bend their head to listen to each other. At most of the tables, hours-long debates, discussions and analyses of everything from art to literature and poetry to politics were accompanied by infusions and puffs of smoke.
A man was regular there – couple of years' senior, jobless, reluctant, very smooth and chubby faced, and a chain smoker. No matter when I arrived and how long I stayed, he was always there. One day someone asked me if I knew him. I didn't. My friend then revealed a little too much well-known information about that man – a bright alumnus of Jadavpur University's Comparative Literature department, that man was fired from his job as his homosexual orientation came out in the open after his wife left him. He apologised to his wife for marrying her but didn't go back to that office with an apology and a promise to change his sexual orientation, which his wife had demanded before leaving him. With no family in his support, he had already been given urgent notice from his landlord to vacate his house within a month's time. Surprisingly, he never really looked sad to me. Either, he had accepted life as it came to him or he was just enjoying his newfound freedom – to understand the need and practise the deliberation to not lie and not pretend, to not adapt another personality are the biggest motivation in a human life.
Although this particular instance was from India, there was nothing surprising about the treatment of the issue, because the scenario at that time was similar in US and other developed nations too. Small but significantly courageous steps were already being taken to strengthen the LGBTQ movement everywhere. However, the awareness of the term LGBTQ was not quite widespread, nor did it have that kind of impact or place which it has developed today. People who felt different than the "normal" population, were not even sure whether they should confront or confirm their identities as lesbian, gay, homosexual, queer or transgender. I placed this example here to share the mind-set of a community that claims to be rather progressive and intellectual.
Surely, the situation was far more difficult for the LGBTQ people who belonged to communities prone to obey their societal rules and norms, practices and rituals rather religiously, and failing to follow rules could result into their ousting from their community. The suffocation inflicted by the clash between the beliefs of the gay and the non-gay sects of the society was getting murkier when the nation's blind orthodoxy got a hard blow by the Stonewall Uprising in New York – when a violent riot between the gay community of Greenwich village and the police department of New York broke out as a result of a routine police raid of a gay bar spiralling out of control. With the Stonewall Uprising marking the most significant event in the history of the gay liberation movement in 1969, Beth Chayim Chadashim – started its journey as the world's first LGBTQ synagogue in Los Angeles, California, in the year 1972.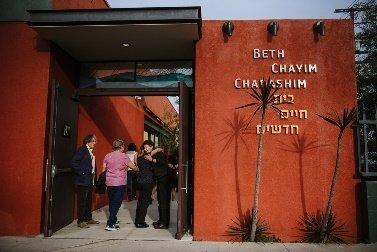 Things really had not changed much in the favour of the LGBTQ rights even after forty years of Harry Hay coining the term 'LGBTQ'. The situation got more complex because of the hate crimes which kept took place in the US between 1970-1990, resulting in more than 50 people being murdered or assaulted in 20 years, irrespective of their ethnicity. The need for a common space to share their views without the fear of being barred, refused or rejected was extreme among Jewish individuals who were barred from all Jewish religious ceremonies. BCC served its purpose with a kind diligence which resulted in its branches being established in 40 cities by 1976. Today it is an all-inclusive, progressive and diverse community celebrating Jewish culture.
Lisa Edwards joined BCC in 1994 and has since been leading her congregation as BCC's Head Rabbi through her sermons and other services – working towards changing the fundamental notion of the society about the LGBTQs and by helping the Jewish individuals understand their identity and find a path true to their existence. Acknowledging her incredible journey, from being the Rabbi for the Jewish gay congregation to becoming the pioneer of the LA Pride Parade for the Jewish homosexuals, we chose to work with Rabbi Edwards as the Renaissance Person of our current issue themed Belief.
Experiencing growing up with people whose sexual orientations are straight can be particularly confusing when someone discovers that there is something different in them. It becomes especially difficult when they are forced physically and emotionally to accept and adapt a life which threatens the fundamental rights they are entitled to have. Rabbi Edwards stood as a pillar of support to many Jewish individuals for 24 years, offered sermons holding the amazingly diverse and expanding community in BCC together through many hard times, and officiated weddings after the law passed in 2008 allowed gay marriage in California. A very emotional moment for Rabbi Edwards came in March this year as she officiated the wedding of BCC member Elyse Saragossi, whose naming and bat mitzvah were also performed by Rabbi Edwards as per the request of Elyse's parents Bonnie Moore and Carol Saragossi.
Rabbi Edwards officiated almost 50 weddings in the summer of 2008 which got popularly known as the Summer of Love. The season witnessed even the wedding of Rabbi Edwards with her partner Tracy Moore. The Shabbat service at BCC on 22nd March, 2019 was as usual led by Rabbi Edwards, accompanied by a musical arrangement by the BCC choir and a remembrance of the Summer of Love by Pam Postrel and Mindy Blum who got married that year by Rabbi Edwards.
During the outbreak of the AIDS crises in Los Angeles, the gay people's needs were left unattended by the government. As a result of that, and the fact that any treatment was still not available to slow down the process, many deaths occurred in the Jewish community and also outside it. In those trying times, a significant mission of BCC was taking care of the AIDS affected gay people, keeping in touch with them, helping them with any available medical aid and treatment, and bringing them in for meaningful conversations, to soothe their agonies caused by the lack of empathy shown towards them by their family and friends. It was a huge responsibility, and BCC never discriminated based on any racial preference to reduce the load. The members of BCC who were medical practitioners shared a great deal of responsibility in providing treatment and care to the patients inside and outside of the congregation. Rabbi Edwards became the face of the community at that time, making the affected people and their partners find a home in BCC which had no expiry dates on being kind.
BCC welcomes everyone who believes in the goodness of Judaism and celebrates the Jewish lifestyle and culture, irrespective of their age, race, ethnicity, nationality, ability, sexual orientation, or gender. To serve this purpose, BCC has started and successfully organised and continued many programs targeted to fulfil the specific needs and developmental particularities of the men, women and children of their community. Baby Kibbutz (collective communities to teach children through shared learning), Men's and Women's Havurah (facilitating Shabbat and holiday prayer services and sharing), and Project Chicken Soup (cooking and delivering 10 Kosher meals twice a month to patients suffering from HIV/AIDS or cancer) etc. are part of BCCs most significant initiatives to discourage discrimination based on any social, religious, physical, or spiritual taboos or stigma. Teaching the sacred text is also promoted and encouraged to find support and blessings as part of a continued healing process, and to unite the congregation under the goodness and positivity of their religious pretext.
Since becoming a part of the BCC community, Rabbi Edwards has been an advocate for issues like marriage equality, environment protection, families' reunification, and the promotion of sacred Jewish texts. With more queer couples adopting children today and the families being accepted as normal families among the mainstream congregations, life in the gay Jewish community seems to be opening up more possibilities, setting more examples of a different normal which is just fine as long as it recognises people's need for equality and freedom.
Even today, when BCC feels threatened by the hate speech of people who gather outside the building to exhibit violent and irrational behavior, Rabbi Edwards makes sure that everyone in their congregation is safe, at peace and most importantly, they feel united and understand that their strength lies in their unity. Amid violence, her only advice to her community is, khazak, khazak, v'nitkhazek (Be strong, be strong, and let us strengthen one another).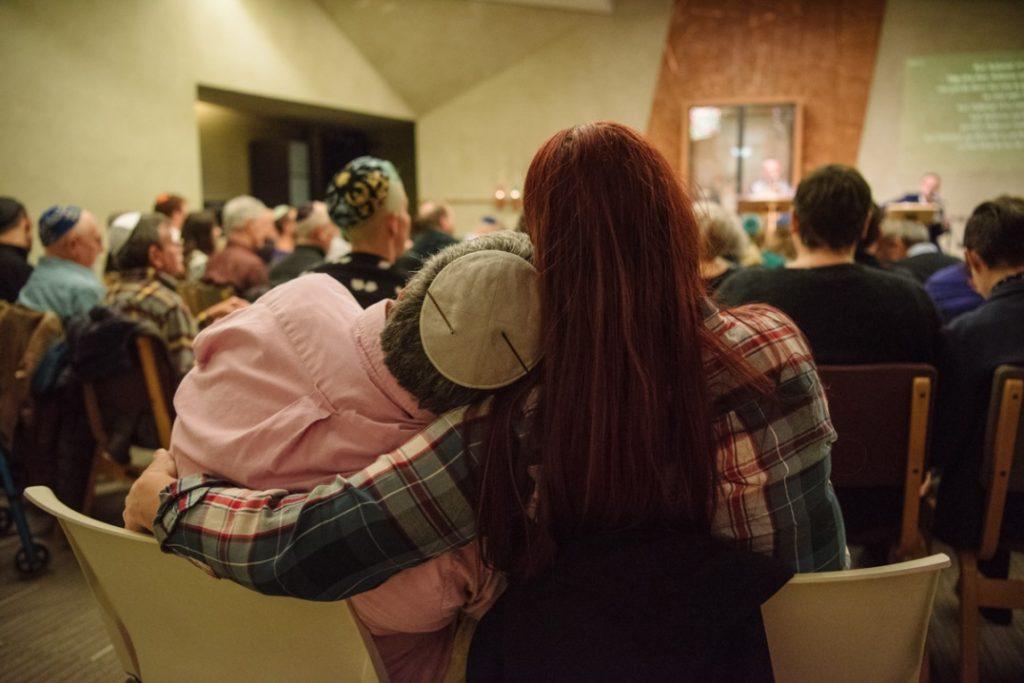 Acknowledging her role and significant contribution to the community, on March 4, 2019, Assembly woman Sydney Kamlager-Dove of District-54 named Rabbi Edwards the "Woman of the Year", in celebration of the month March as Women's History Month. She was awarded at a formal ceremony in Sacramento.
Knowledge is power, and our intention is to bring the power to you. We have initiated a thought movement that aims to strengthen democracy by bringing to you direct voices of important trailblazers and pathmakers, and reclaim deep and patient reflection as an important seed for relevant and sustainable action!
Help us take this movement forward. Support Inter-Actions today for as little as Rs. 100.
Donate
Donation to LILA is eligible for tax exemption u/s 80 G (5) (VI) of the Income Tax Act 1961 vide order no. NQ CIT (E) 6139 DEL-LE25902-16032015 dated 16/03/2015