Believe my body,
let it speak to you.
Let it speak my truths in your ears,
loud and clear, with no restraint.

Let it speak, let it declare itself.
Let it speak of the battles it fought
while it achingly sprouted its breasts,
through my long homegrown captivity.

Let it speak out uneasily of those pains
that were absorbed by a stiff old rag
while the red satin of my first blood
draped the white slope of a commode.

Let it sing of the gait and adornments
it had strived to preserve across ages.
Let it speak of its springheads of lust
and love as well as of its buried resolves.

Let it speak of the torment
of yielding on a strange bed,
of having had to please the lust
of someone that it hardly knew.

Let it speak of childbirths and abortions,
of its many smelly discharges, and the hurt
in its knee as it walks its menopausal path.
Let it speak aloud, as in a revelation.

Let it be known to you fools,
it is not a body that you rape, but
a deadly weapon. It holds within it
the living nature, its wild tempests.

The body speaks.
Translated from Tamil by Rizio


About the Poet: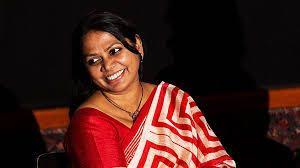 Rokkiah Begum alias Rajathi Salma is an Indian Tamil author, columnist, social activist, political worker and orator. Based between the small town of Thuvarankurichi and Chennai, she is recognised as a writer of growing importance in Tamil literature. Her work combines a rare outspokenness about taboo areas of the traditional Tamil women's experience with a language of compressed intensity and startling metaphoric resonance.
Salma is the author of two books of poetry: Oru Maalaiyum Innoru Maalaiyum (An Evening and Another Evening) (2000) and Pachchai Devathai (Green Angel) (2003). Her novel The Hours Past Midnight was long-listed for the Man Asian Booker Prize. BBC Channel 4 has made a film on her life and works.
"Salma's poetry breaks new ground in Tamil poetry for its articulation of an unapologetically subjective female worldview, its bold examination of life in a traditionally restrictive patriarchal context, its refusal to allow the erasure of personal memory. Even in translation the words retain a chemical charge, as they evoke a world of love, sexuality, betrayal, frustration, motherhood and a self that will not be silenced, belittled or dehistoricised by the normative injustices of the status quo."

Arundhathi Subramaniam

Read and listen to the multiple tongues that make this a truly Terra-Sutra experience here. 
Knowledge is power, and our intention is to bring the power to you. We have initiated a thought movement that aims to strengthen democracy by bringing to you direct voices of important trailblazers and pathmakers, and reclaim deep and patient reflection as an important seed for relevant and sustainable action!
Help us take this movement forward. Support Inter-Actions today for as little as Rs. 100.
Donate
Donation to LILA is eligible for tax exemption u/s 80 G (5) (VI) of the Income Tax Act 1961 vide order no. NQ CIT (E) 6139 DEL-LE25902-16032015 dated 16/03/2015