Close your eyes and take a deep breath.
Imagine.
Think of a time when you were doing something you wanted to, something you could set the rules for and the outcomes did not matter.
When you were relaxed in your mind and able to think clearly for it.
When you were able to push boundaries and take risks.
When you were feeling safe, accepted and free.
Maybe it was something you did yesterday, or perhaps when you were five.
That was you at play.
One major casualty of the factory-style schooling of today is the space and time available for play – especially the free, outdoorsy, unstructured variety that was commonplace in playgrounds and maidans until a few decades ago. Expanding buildings and shrinking playgrounds have become the norm for both schools and cities now. Much of what passes for education today – in India and, to a significant extent, globally as well – is a rigid and regimented programme aimed primarily at inculcating marketable skills that equip students for an increasingly competitive chase after jobs and careers. There is not enough emphasis any more on the all-round growth of a person. Such a trend does not bode well at all for the mammoth task of educating the citizens of tomorrow.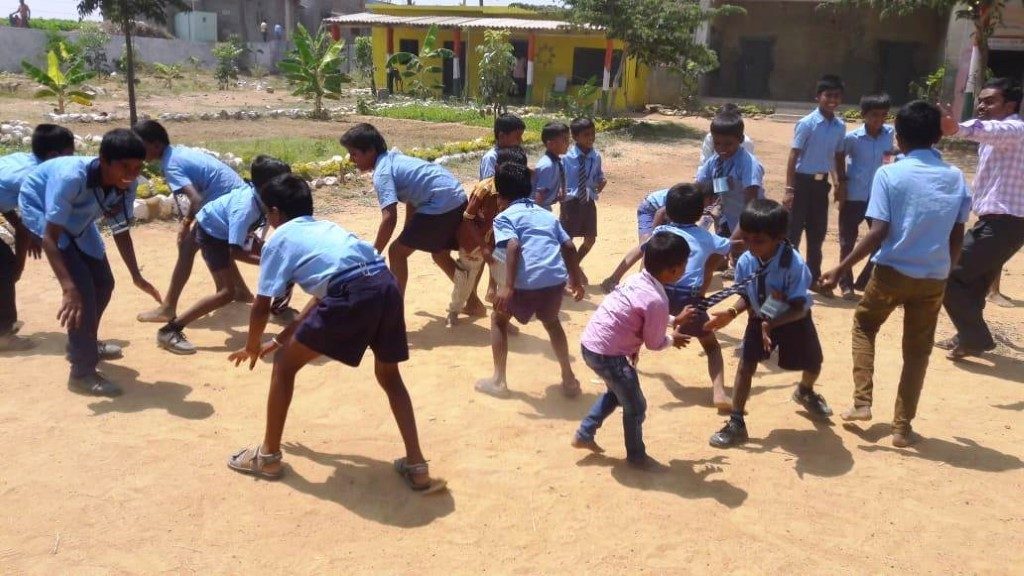 In the realm of educational thought, all the innovative geniuses – Rousseau, Comenius, Tolstoy, Pestalozzi, Montessori, and Tagore, among others – have assigned a central value to play as a shaping ingredient in the education of children and youth. From the perspective of social psychology as well, the steady diminishment of free play is bound to have serious repercussions on the future well-being of large masses of people. Johan Huizinga, the great Dutch historian whose ground-breaking book Homo Ludens (1949) set the philosophical, psychological and sociological importance of play, went so far as to claim that civilisation itself – comprised as it is of religion, science, law, language, music, literature and the arts – arises out of the human inclination towards play.
On an individual level as well, different forms of play – ranging from unstructured free play of the solitary or social kind, to rule-based sports and games, to storytelling, art, music, theatre, cinema and the other creative arts – have been observed to be a primary engine for socialisation, a resolver of internal conflict within individuals, a source of deep fulfilment and sense of achievement, a preparation for the rigours and challenges of adulthood, a training ground for the skills of negotiation and diplomacy, a healing and therapeutic activity, a means of ensuring psychic wholeness, a refuge from utilitarian and materialist modes of being, a mode of learning and discovery, and so on.
Many experts and theorists have also pointed to the dangers of bringing up a generation with significantly reduced opportunities for play. It has been found that in the case of a large number of sociopaths, there was a marked absence of play in their childhood. Stuart L Brown, a psychiatrist specialising in play and founder of the California-based National Institute for Play, made a study of 26 young male murderers in Texas prisons and came up with some startling findings, which he summarised thus:
Studying these inmates highlighted how important play is to normal development. Every single one of them lacked typical play experiences. They especially had trouble with the most ordinary play boys engage in – rough-and-tumble. Boys learn how to give-and-take when they play rough. You might say that roughhousing grants them a kind of grace – it's a way they have of making friends and deepening friendships. These murderers had never experienced that type of play, and they missed the learning that came from it… an individual who is play deprived is rigid and easily startled and will react [to surprise] with hostility or withdrawal rather than joy. Humans who suffer a deficit of play have missed the opportunity to train the feelings that make them stronger. (American Journal of Play, Spring 2009)
It should come as no surprise then that whatever little we see of an energetic advocacy for the rejuvenation of play in our educational and community contexts is aimed at ensuring the well-being of the next generation. The social costs of the neglect of this vital component would be too high, especially in the light of challenging times ahead, particularly from an ecological and political perspective. The sad fact is that these efforts are currently sporadic at best. Much needs to be done in this vital area today if we are to reap the benefits tomorrow in terms of a resourceful and socially responsible citizenry.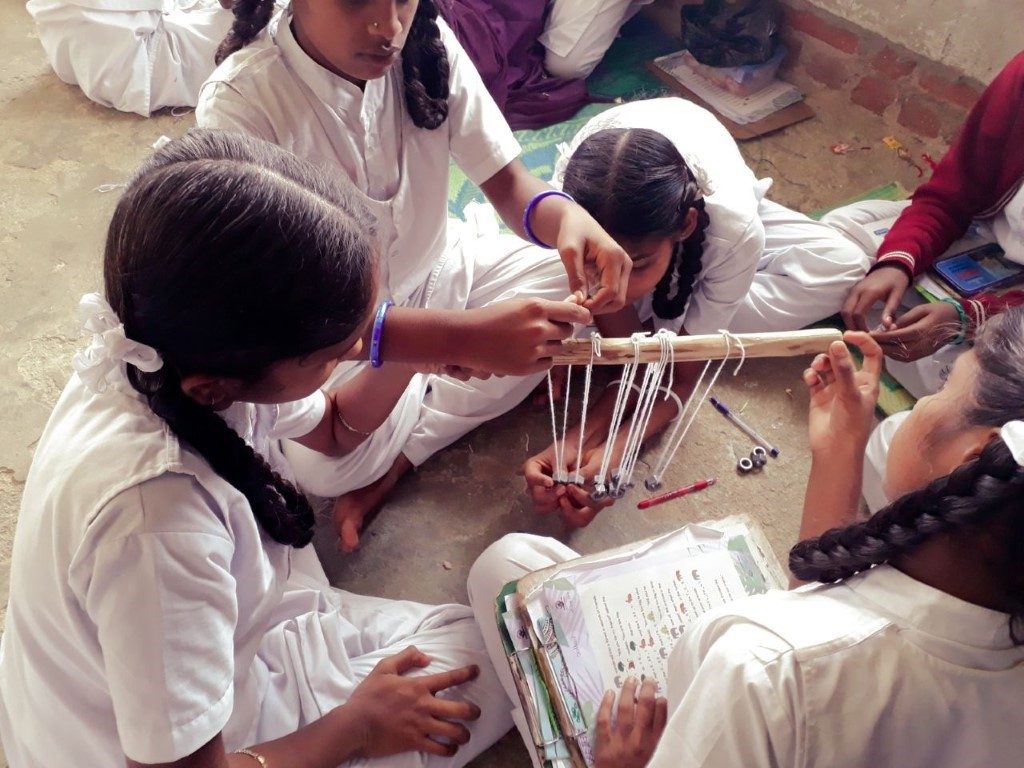 Here is where the concept of 'play and learn' assumes relevance. In spirit, this model approximates pretty closely to Fraser Brown's definition of 'playwork', a popular concept evolved in the UK: "At its most basic level, playwork is about removing barriers to play, and enriching the play environment… The role of the playworker is to create flexible environments which are substantially adaptable or controllable by the children…" In India, using a home-grown approach, my Bengaluru-based organisation, Headstreams, has independently developed a similar concept of 'play and learn' and adapted it to local conditions in the state's urban and rural districts.
Tackle Caravan, a weekly programme carried out on government school premises, is one such initiative that best illustrates the facilitation of play in learning. Typically the playspace – the playground and some classrooms – is informally divided into diversely resourced spaces such as art and craft, rhythm and music, dance and movement, visual art, speak-your-mind, indoor games and puzzles, story and theatre, and outdoor games. All of these spaces are populated by trained play facilitators, who are either Headstreams staff or college students doing Headstreams' Certificate or PG Diploma course in Play and Human Development. Any child from the surrounding areas is welcome to participate in the Caravan. During the Caravan, the children have the freedom to engage with any of the spaces offered, and also have the freedom to quit when they want to, in complete absence of judgement for doing so. Knowledge of child development and how to create safe and empathetic spaces that support children's play and learning is an integral part of the training that the facilitators go through.
Having access to a space like this catalyses monumental change in children, because it gives them the freedom to follow their heart in a non-threatening and joy-filled environment. In a Caravan, you will see teenage boys spending time just drawing and colouring (something that they would be ridiculed for within their communities) and teenage girls playing kabaddi or dancing (many girls love dancing but are hesitant as teenagers because of societal pressure) for two hours straight. You will see children fighting over a pair of scissors, and resolving between themselves how best to share the sparse resources. You will see facilitators setting aside all prejudices to engage with the children as equals, challenging the socio-economic divisiveness that they each bring into the space from their homes and communities. Through games and playful activities, barriers of biases and walls of assumptions are broken one by one, hopefully with lasting effect. If nothing, each takes back home a memory that the world can be a co-operative and fun place, different from the one they assumed to be true.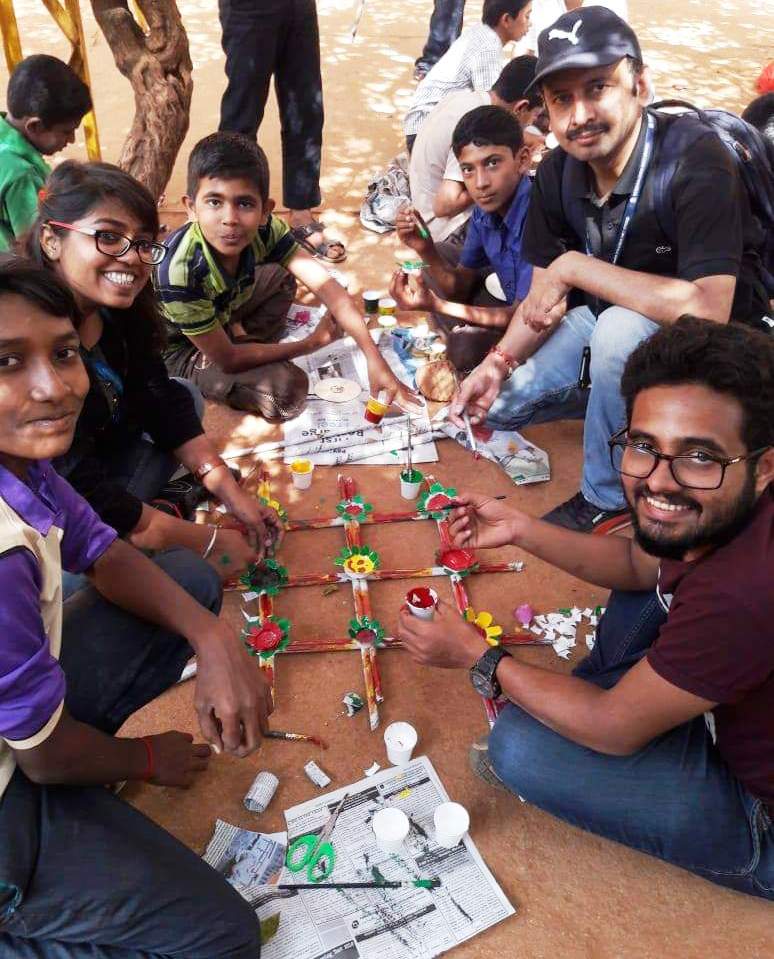 Kishen was about 14 years old when he first came to the Caravan. He was non-responsive and given to self-stimulating behaviour that made many uncomfortable. Unable to engage with the resources provided, he would indulge himself through the self-soothing behaviour of masturbation, unaware of the discomfort this caused others. If a facilitator tried to approach him, he would hurry away in avoidance. One senior facilitator was given charge to pay gentle non-judgemental attention to Kishen, engaging him first in friendly non-verbal exchanges and over time steering him slowly towards activities available in the playspace. In a matter of weeks, Kishen began participating in the Caravan enthusiastically, discovering talents and interests he had. He reported missing the Caravan on the days it did not take place, and said it was the one place he felt completely understood. The opportunities of the play-learn space helped him experience what social acceptance felt like, so he could uncover who he could be. For us, the evidence of successful transformation was when he began volunteering to facilitate the play-learn space in subsequent years.
"Play is our brain's favourite way of learning," says Diane Ackerman. We would go so far as to say, it is the innate human path to healing and change. Indeed, play cuts across all boundaries, and knows no gender, class or age. It is what binds, brings together, and creates friendships among strangers. It is that opening where possibilities seem endless, and one is ready to take head-on the complex challenges that our lives throw up. It is the fuel behind both the discovery of what holds a sand castle together and the hopeful invention of biodegradable plastic. To know the magic of play and to stop and think of how it can bring healing and deepening of joy, would be to become committed to wanting more of it in our lives and providing it everywhere we go. So close your eyes and imagine again, of what play can bring. Then join in on the play to learning and change, wherever you are and however you can.
With inputs from the Headstreams team.
All photos are credited to Headstreams.
Knowledge is power, and our intention is to bring the power to you. We have initiated a thought movement that aims to strengthen democracy by bringing to you direct voices of important trailblazers and pathmakers, and reclaim deep and patient reflection as an important seed for relevant and sustainable action!
Help us take this movement forward. Support Inter-Actions today for as little as Rs. 100.
Donate
Donation to LILA is eligible for tax exemption u/s 80 G (5) (VI) of the Income Tax Act 1961 vide order no. NQ CIT (E) 6139 DEL-LE25902-16032015 dated 16/03/2015