Some voices create an undying resonance in our soul. The voice of compassion, resilience and protest, which listens to its inner calling and leads us to solidarity against any form of injustice is the strongest amongst them all. I shall not try to introduce one of the most poetic and politically aware post-partition voices to you, readers—we shall only try to walk along his footprints which are still fresh and guiding, fulfilling the demands of our times with perseverance; and also because, he knew how to make a choice – the right one – and how to stand by it at all costs. बोल कि लब आज़ाद हैं तेरे / बोल ज़बाँ अब तक तेरी है /तेरा सुत्वाँ जिस्म है तेरा / बोल कि जाँ अब तक तेरी है. How strongly relevant these lyrics have always been, in his times as well as in ours. By now you would have guessed who our Lilaight this season is – Faiz Ahmed Faiz.
As the Chief Editor of Pakistan Times, he was a prominent Pakistani name in the realm of international politics who stood in solidarity with freedom of expression. In 1951, he was accused of being an accomplice in the infamous Rawalpindi Conspiracy Case – a coup d'état against the governments of Liaquat Ali Khan, the first Prime Minister of Pakistan. He was imprisoned for 4 years in spite of no evidence having been found against him. The conspiracy never really took off as the idea of bringing down the government was outrightly rejected by Faiz and his other alleged co-conspirators. It can very well be deemed as a political conspiracy against the elite communist thinkers and intellectuals of Pakistan in the beginning of the 1960s. The left-wing political ideology that he fiercely practiced and expressed through his bold editorials condemned the right-wing politics which was gradually snowballing its influence over Pakistan's socio-political scenario. Many years after Faiz's death, declassified documents from Pentagon came to reveal that the capitalism of United States felt threatened by the long-lasting impact Faiz had created on the political ideology of the youth, the labours, and the intellectuals of his time.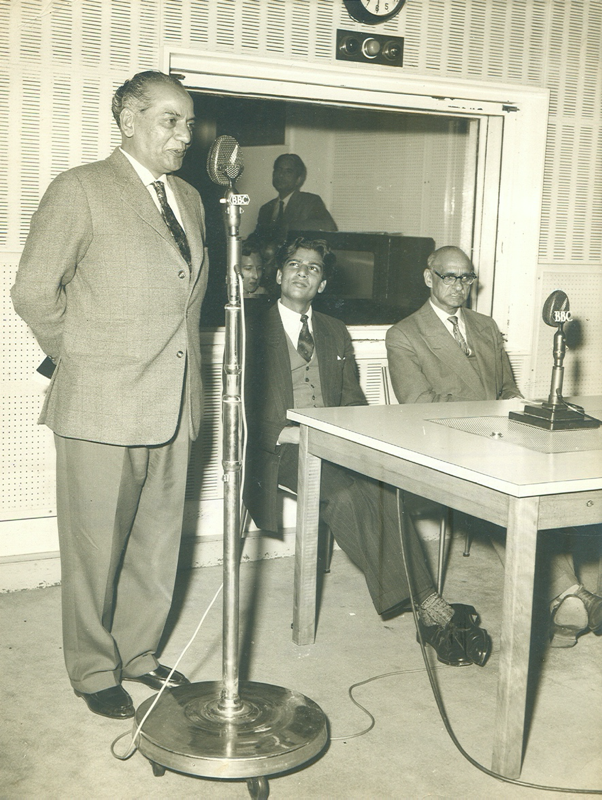 Being able to create a dependable, thought-oriented connection with the working class of the society was not a momentary pursuit for him, but a steady interactive process to execute his lifelong socio-political philosophy. He was engaged as a journalist in more than one newspaper and magazine in his initial post-partition years. Being a communist and a journalist gave a way to socially communicate his prevalent sense of justice, rights, and freedom—a duty which he successfully performed by establishing the Workers' Union in Lahore. He was actively involved in the Trade Union Movement and visited worldwide representing the labour trade organisations in Pakistan.
He was a man of systematic and radical governance who was officially never a part of the government of Pakistan, although he had at several occasions helped the government in setting up organisations that till date provide services to the people of Pakistan. After 1947, when repeatedly asked about his stance regarding the decision of partition, about whether it should have happened or not, he only politely said that he belonged to Pakistan's side of the border. It was not a diplomatic statement—there was nothing political about his response; it was something uttered from the heart. A heart that was deeply rooted in Lahore, and happened to fall geographically within Pakistan's territory. As a man of educated ideology, he didn't believe so much in breaking up the nations, tearing apart the cultures, and founding new borders to meet the demands of specific racial and ethnic political alignment and religiosity.
The concept of a nation-building governance was still at a new-born stage and was only growing further complex with the right-wing politics being intertwined with the social, economic, and cultural predicaments. There were hopes and demands, but those were not backed up by systematic involvement from the government. Instead of being imprisoned twice, whenever Faiz found an opportunity, he engaged to initiate a more innovative cultural interaction among all who were a part of that particular system—as the Head of the Lahore Art Council from 1959 to 1962, and later the Head of National Council of Arts, an equivalent to the Lalit Kala Akademi in India. He was able to engage the artists, musicians, and the viewers making the NCA as the most happening place in the 1960's Lahore.  
In 1960, there was a new concept that started doing the rounds in international media. Canadian thinker Marshall McLuhan, coined the term 'global village' hoping for more human interaction taking place worldwide, which would eventually break all forms of barriers followed in ethno-cultural patterns. It was really in its earliest possible stage at that time and Faiz was a believer in this theory. He wasn't up for supporting a country's governance or the ethno-racial choices made by its people who spoke the same language as him, but from a skewed notion of patriotism. It became more evident when he decided to leave the country after the 1971 war of independence. However, on invitation from Prime Minister Zulfikar Ali Bhutto, Faiz decided to go ahead with his dream of setting up the Classical Music Research Cell in Lahore. Faiz's close friend Khwaja Khursheed Anwar helped him and together they introduced 14 volumes of north-Indian music, archiving all the gharanas. It was the most significant contribution in Pakistan's cultural sector since the partition. However, it was not to sustain the wrath of politics and was shut down in 1977 after the martial law was imposed.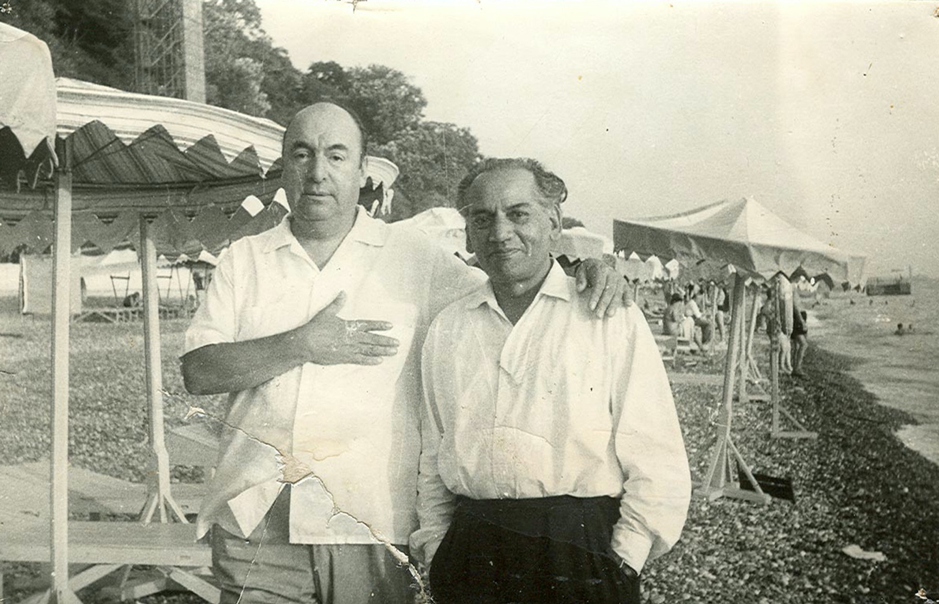 A classical Urdu poet in the true sense, Faiz was never a layman's poet from an analytical point of view. One needs to know the Urdu diction to its fullest strength to relate to the symbolism explored in his poems. He followed the legacy of Mir Taqi Mir and Mirza Ghalib in his poetic diction to stay rooted to his heritage. However, his poems have always been used for various purposes by anyone who considered the Urdu language close to their heart. At the same time, his background in journalism and the trade union movement guided his path as a poet. He was theoretically and realistically all too aware about the class struggle and the crises of declassification. With his basic values rooted in humanism and not in pseudo nationalism, he never gave in to any kind of pressure to write a single line which could be used as a patriotic weapon either in the 1965 war or the 1971 war. Faiz was the first poet from Asia to win the prestigious Lenin Peace Prize awarded by the Soviet Union in 1962.
After Muhammad Zia-ul-Haq took over as the sixth President of Pakistan in 1977-78, by declaring Martial Law in Pakistan, things took a worse turn for Faiz. The authorities in the Lahore Airport were instructed not to let him escape from the country. Faiz played them and escaped to Beirut where he decided to live in exile till Pakistan came back to normalcy. He worked there as the editor of Lotus magazine which focussed on Afro-Asian literature. It was after he took over office that the Afro-Asian Writers Association came into being. The opportunity to be involved in innovative works, bringing all the exiled writers of the region under the umbrella of the same organisation, was a seminal accomplishment in itself.
He experienced a time in Beirut when the civil war was at its peak. Palestine Liberation Organisation, PLO, supported and protected him to a great extent. Faiz supported their cause and felt at home with them. However, an exile was nothing but an exile and he missed home more every day while residing in his small two-room apartment. His pain is profound in the poems written during the last few years of his life. He started to write in Punjabi too as it was close to his heart. He was writing for his people, for his home, he was remembering his time spent in Pakistan. Many writers from Pakistan visited him frequently, and he made a trip to India during this time as well. He was stopped at the Indian international airport for having a Pakistani passport, however, that issue was quickly resolved as his name was not unfamiliar to the Indian bureaucracy. His 70th birthday was celebrated with much honour and warmth in India, which partially took away his pain of being in exile. He visited Allahabad, Calcutta, and Madhya Pradesh during that trip. Having been a close friend to the exiled Turkish poet Nâzım Hikmet, he witnessed and experienced the agony of exile all too close. So, when he was offered a post at Calcutta University, he was tempted to accept it. However, it was a decision that could have had an adverse political impact on his children's lives—considering the diplomatic relationship between the two nations. That kept him from accepting the offer. In 1976, he was awarded the Lotus Prize for African and Asian Literature for his contribution to bring the African and Asian writers together as the Editor of the Lotus magazine.
Faiz Ahmed Faiz belonged to the land which doesn't have a geographical boundary. The essence of his poetry cannot be branded by any single nation. He always believed and belonged to the land of Sufism, humanism, and revolution which speaks up to register its voice against any form of injustice. The recent anti-CAA protest in India proved the relevance of Faiz even today, when his poem Hum Dekhenge – the guiding light of anti-Citizenship Amendment Act protest – drove millions of Indian youth to utter a thunderous roar against enacting the divisive policy to break India from within.
लाज़िम है कि हम भी देखेंगे
वो दिन कि जिसका वादा है
जो लोह-ए-अज़ल में लिखा है
जब ज़ुल्म-ओ-सितम के कोह-ए-गरां
रुई की तरह उड़ जाएँगे…
Hope the legacy of Faiz Ahmed Faiz continues to keep us together in solidarity.
---
Knowledge is power, and our intention is to bring the power to you. We have initiated a thought movement that aims to strengthen democracy by bringing to you direct voices of important trailblazers and pathmakers, and reclaim deep and patient reflection as an important seed for relevant and sustainable action!
Help us take this movement forward. Support Inter-Actions today for as little as Rs. 100.
Donate
Donation to LILA is eligible for tax exemption u/s 80 G (5) (VI) of the Income Tax Act 1961 vide order no. NQ CIT (E) 6139 DEL-LE25902-16032015 dated 16/03/2015