LILA: Thank you for agreeing to share your voice as part of this edition of Inter-Actions on LIVELIHOOD.
You have been working with individuals and families affected by armed violence in Manipur for over a decade now. Can you tell us about the situation there? What has been the cause behind the violence, and how has it evolved over the years?
Binalakshmi Nepram: As an indigenous woman scholar, published author and human rights defender from the state of Manipur, I have been working to deepen democracy, women's rights, peace, security and disarmament for over 15 years. The Northeast Region of India that borders China, Myanmar, Nepal, Bhutan and Bangladesh is a region that was home to four independent Asiatic nations, namely Manipur, Assam, Tripura and Sikkim. They were "merged" with Union of India much later, starting in the 1940s through the 1970s. The process of merger has been contested politically and hence the eruption of conflict in the region. This region is one of the most militarised places in the world.
The Region is now home to 272 ethnic & indigenous groups and has been in a state of armed conflict for more than 70 years, with over 72 armed groups operating in this region, and more than 50,000 deaths. Over 300,000 members of the Indian Armed Forces operate in this region and a martial law called, 'Armed Forces Special Powers Act', has been in effect since 1958, the first ever that was imposed in any area of India and continues till today in 2020. During these years of military occupation, many people have disappeared. Their bodies have never been found and recently the Supreme Court of India acknowledged that there have been 1500 extra-judicial killings and have ordered an investigation into them. Currently in Manipur, there are 20,000 registered conflict widows in the state, though our data shows that there are actually three times more.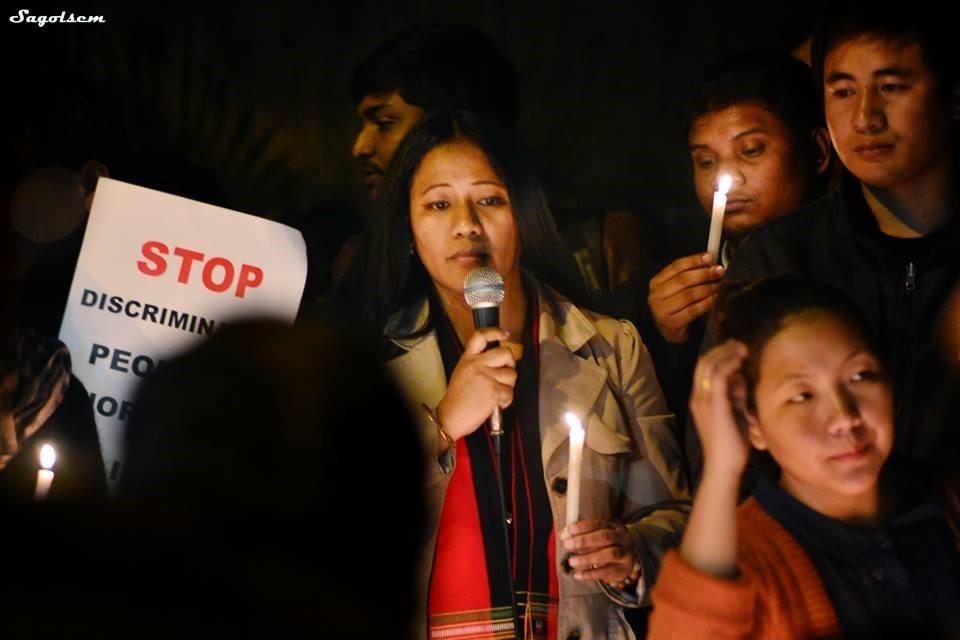 LILA: How is information shared and disseminated in a conflict zone such as Manipur, with so many narratives around it, as well as the imposed State control?
Binalakshmi Nepram: For more than 71 years in the independent Republic of India, the history/histories of 45 million citizens living in 8 states of the northeast region of the country have been largely absent from our school, college and university textbooks. This ignorance or lack of awareness is one of the major causes for the incorrect perception about people from the region, as well as the discrimination they face when they travel for study or work to different parts of India. It has also been the main impediment to proper policy formulation. Citizens, scholars and the general populace feel that this needs to be urgently fixed.
The history of Manipur and Northeast India is rich in indigenous chronicles, many of which were penned about 2000 years back, like the "Cheitharol Kumbaba" (Manipur), "Rajmala" (Tripura), "Buranjis" (Assam) etc. These have not been taught as history, though they should be. Northeast India also has lots of oral history in the form of folktales, folksongs, lullabys, church records, private letters of the World War II period etc. available abundantly in each of the Northeast states, and have been passed over the years through their ancestors.
The inclusion of the History of North East in the academic syllabi of the country's educational institutions would help in bringing peace and prosperity to the nation. In 2012, Manipur Women Gun Survivors Network and Northeast India Women Initiative for Peace started a Campaign called, 'Weaving History Northeast India' to bridge this gap. We also worked with the Bezbaruah Committee and included this is the Ministry of Home Affairs Report that was published after the death of Nido Tania in 2014, but no government has taken this up. 
LILA: How have people built their lives in the midst of this conflict? What are the different livelihood generation activities that families in Manipur participate in, and how are they distributed amongst different members – both male and female; young and old?
Binalakshmi Nepram: Life is tough for many peoples in the region. Once a strong economy rich in natural resources, it is now reduced to surviving on doles from the Central Government. In my travels across all the 8 states, I have seen many people living in poverty, a fact corroborated by the UNDP (according to its data, 7.90 million persons live below the poverty line in the North East Region). World Bank describes the conditions here as, "low-level equilibrium of poverty, non-development, civil conflict and lack of faith in political leadership". 
In 2001, the Department of Development of North Eastern Region (DONER) was created to address these concerns. This was later converted into a full-fledged ministry in 2004. A number of projects have since been undertaken – power, road, railways, air connectivity, inland waterways, telecommunication and information technology, tourism, human resource development etc. However, DONER's work has not yet been effective. Most of the Northeast states have lower level of economic development compared to even national averages. Unemployment is at 5.73%, which is almost double the all-India level. Gender-wise break-up shows that it is about three times higher among the females in NER.
LILA: Can you tell us about the beginnings of your foray into your current work? With so many problems facing the region, how did you come to work on peace and violence, and create the Manipur Women Gun Survivors Network?
Binalakshmi Nepram: Living under the shadow of the gun and believing in the power of non-violence, I have seen and felt the sense of fear that the gun instils. When I came to Delhi from Manipur, I felt a need to understand the weapon that has controlled our lives on the Indo-Burma border. I believe that no other region of India, South Asia, or even the world, has seen such a proliferation and mushrooming of militant outfits which now form a complex matrix here.
Growing up in this region, I thought all this was natural. It was only after I came to New Delhi that I realised that this situation was not at all normal. I then stumbled onto a UN document that was published in 1997 titled Trafficking in Small Arms and Sensitive Technologies. That book, combined with a white paper on small arms prepared by the Canadian Government, changed my life and inspired me to undertake research into the origins of armed conflict and arms proliferation in my society. I conducted research for over two years, and in 2002 published my research findings as a book titled South Asia's Fractured Frontier (New Delhi, Mittal Publications, 2002). I found that 57 types of small arms had been identified to have flooded into North East India in the past few years. The weapons came from China, Pakistan, Belgium, Thailand, Russia, United States of America, United Kingdom, Czechoslovakia, Afghanistan, Bangladesh, Cambodia, Myanmar and of late, Israel. The effect of this small arms proliferation has been alarming. Various young people have taken up the path of guns and violence resulting in death, decay and destruction in various fields – socially, politically and economically. Every year 300,000 people are killed because of small arms. This book empowered me to keep working on armed conflict reduction and arms control, and create a network for women who have been at the receiving end of all this violence. 
LILA: What were the beginnings of this movement?
Binalakshmi Nepram: I launched the Manipur Women Gun Survivors Network (MWGSN) in 2007, the first of its kind in South Asia to offer victim assistance to women gun survivors.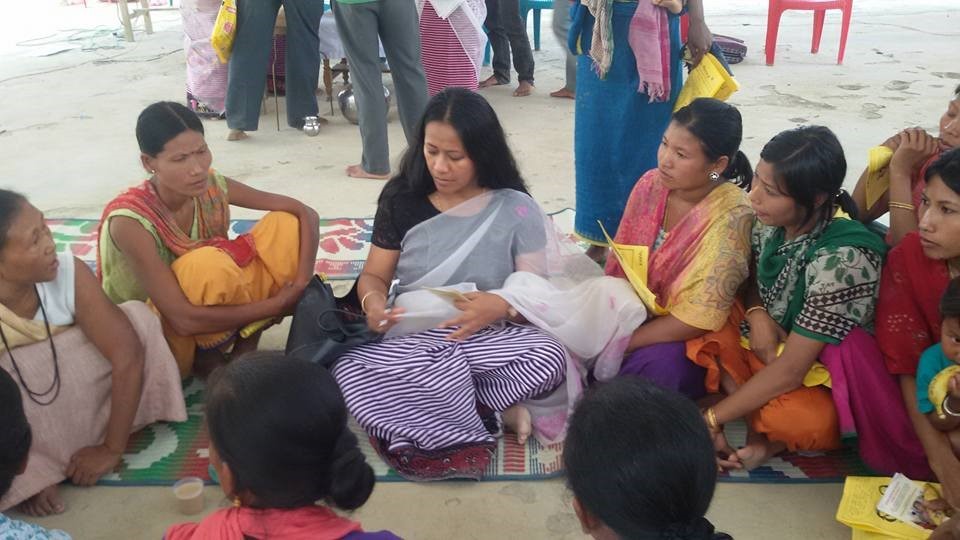 Days after the incident, I and other committed people contributed 4,500 rupees and bought a sewing machine for Rebika Akham, the first ever intervention of the Network. It enabled her to stitch clothes for villagers and to secure a humble living. MWGSN was formed to help women like Rebika Akham, whose lives have been cut short because of the gun killings of beloved husbands, fathers or sons, be it by state or non-state actors or unidentified gunmen. The formal launch of the Network took place on April 29, 2007 in Manipur's state capital Imphal. 
LILA: When designing a non-violent movement for the adoption of new ideas and change, what is the methodology you have developed and employed? What are the different faculties that are desirable to further such a mission – from academic knowledge, for instance, to an affinity for understanding and empathising with the realities at different levels of society?
Binalakshmi Nepram: It is very important to build the civil society to combat armed violence. In 2001 the UN addressed the issue of small arms and light weapons for the first time in its history, when it launched the United Nations Programme of Action on Small Arms and Light Weapons (UNPoA). UNPoA has become a dead paper for many countries, but for us it was a real opportunity to take further action against guns. We organised meetings on this issue in India in five different cities, namely Manipur, Delhi, Jammu, Mumbai and Chennai, and we called upon the government of India to implement it. However, even as India kept submitting report after report to the UN on the small arms issue claiming that it is adhering to the UNPoA, work was never translated on the ground.  
Disillusioned by this, we mobilised civil society and in 2004, we founded the Control Arms Foundation of India in New Delhi (CAFI). The aim of the Foundation is to address issues relating to proliferation of small arms and light weapons as they affect civil society – particularly women, children and the elderly – and also to create a movement in the sub-continent where defence and security issues are debated through informed debate, particularly as they relate to policies. 
CAFI proposes new ideas for security thinking as, for instance, to look at women led-disarmament policies and programme; to make human security a fundamental right; and to make disarmament a movement in the country, which is meaningful to people's lives. Thus, the formation of strong civil society organisation addressing directly small arms issue can be said to be one of the strongest actions taken by women in India to address gun violence. 
Besides this, we also lobby to Indian disarmament officials, parliamentarians, think tanks, and network with other NGOs. We have also been conducting mass awareness programmes such as organising an essay contest; making films on gun control issues (namely "Gun Wars and Drug Deaths (2003)", "Gunning for Control (2006)" and "The Story of the Manipuri Women Gun Survivors (2008)"); organizing photo exhibitions related to gun violence; and publishing several books on the issue. Further details about our work are available on Control Arms Foundation of India website.
Over the past 14 years, I have personally also taken part in various meetings organised by the United Nations across the world, and have also helped formulate three Private Members Bills based on the Draft National Action Plan on Women Peace and Security: (1) Protection of Women Against Violence by Armed Forces in Disturbed Areas Bill, 2016 (2) The Armed Forces (Special Powers) (Amendment) Bill, 2016 and (3) Representation of Women in Peace Negotiations Bill, 2016. The last bill was aimed at upholding international human rights in an appropriate legal framework to recognise the fate of women in conflict and to ensure that peace negotiations maintain gender-parity.
Our work has been presented in several universities including Harvard, Yale, Columbia, Georgetown Law School, Duke University, Swarthmore, New School, Amherst, University of Connecticut and San Diego and many more around the world.
LILA: How have all these come to directly impact women and their lives and livelihoods?
Binalakshmi Nepram: A draft National Action Plan for Women of India in alignment with UN Security Council Resolution 1325 and The Convention on the Elimination of all Forms of Discrimination Against Women has been drafted and promoted through discussion forums with women leaders from Northeast India, other parts of India, Nepal, Myanmar, and Bangladesh; and policy makers, journalist, academicians, namely Women Peace Congregations and South Asia Women Peace and Security Conference making the action impactful at the highest level. I worked to help set up five Women Support Centres to cater to the needs of vulnerable, marginalised and conflict affected women in the region. The Women support centres still act as democratic spaces for women in need of regular interaction, discussion on peace and security, livelihood options, government schemes, and most importantly they provide psychological support and legal assistance to individual women who are victims of gender-based violence.
LILA: What about the need for financial assistance by these women? Microfinance has become a go-to solution for many involved in such endeavours. However, often economists have critiqued this model, as it is said to not provide any structural solution to poverty. Are there any insights you can share into this claim, reflecting on the experience of the Manipur Women Gun Survivors Network?
Binalakshmi Nepram: MWGSN attempts to lift women above the trauma and agony faced in the conflict. It helps women survivors of gun violence to find ways to heal the scars that decades of living under the shadow of a gun has caused to the community. Our direct intervention is based upon a gender sensitive approach to the gun crisis, and by supporting women economically, it brings them forward to play a crucial role in small arms policy as well. It is thus the first initiative of its kind in India. The Network assists gun-affected women in Manipur in small-scale entrepreneurial work and is working towards building sustainable livelihood measures for them. Manipur enjoys a distinct place among the handloom zones in India, and like many of the Manipuri women, most of the gun survivors are skilled in making handloom and handicraft items.
The Network also helps women gun survivors to open bank accounts and provides small loans of 3000 to 9000 rupees. With the help of this money the women are able to carry on work related to silk reeling, weaving and other occupation such as fishery or mushroom farming.
  MWGSN also forms 'Solidarity Networks' of committed young people who believe in helping the survivors and controlling the use and spread of small arms. They keep in touch with these women and assist them in whatever way they can. Women affected by gun violence can now live their life with a newfound courage.
LILA: You have said before that Gandhi has been an important figure to learn from when designing a non-violent movement for human rights. His methodology closely and deeply involved developing alternate systems of the market, social and political governance, as well as other important aspects of a State or country. Is there such a vision that both your organisations – the Manipur Women Gun Survivor's Network and Control Arms Foundation of India – are guided by? Please tell us about it.
Binalakshmi Nepram: I think Gandhi was spot on in identifying women's roles in peace processes and conflict resolution. In 2010, with several women leaders across Northeast India, we launched the Northeast India Women Initiative for Peace which works to ensure that women are in key decision-making processes and in peace talks and negotiations.
And of late in 2019, we also launched the Global Alliance of Indigenous Peoples, Gender Justice and Peace. This takes our work from Manipur to the national and global level. Through my experiences I have come to understand that significant gaps exist in the understanding and application of democracy, diversity, gender and indigenous rights, particularly with regard to the human rights principles and standards articulated in the United Nations Declaration of Human Rights and UN Convention on Ending all Forms of Discrimination Against Women and the UN Declaration on ending racism and all forms of xenophobia.
So, I firmly believe that youth, women, and indigenous peoples have a powerful role to play in bringing about a more peaceful world that is free from wars and conflicts. The founding of the Manipuri Women Gun Survivor Network (MWGSN), Northeast India Women Initiative for Peace and Global Alliance of Indigenous Peoples, and Gender Justice and Peace is testimony of the work that we do together to continue to build a world that is true to what is enshrined in the constitution as well as Universal Declaration of Human Rights. Through our research, writing and committed work, we live my dream of striving for a world that is free from hunger, want and war.
LILA: This would have seemed to be the case a few months back even domestically, with the Armed Forces Special Powers Act being repealed in Meghalaya and parts of Arunachal Pradesh, and talks of the same fate planned for Assam as well, post completion of the National Register of Citizens of India exercise in the state. How do you see this development? Do you see the possibility of repealing AFSPA from all north-eastern states anytime soon? 
Binalakshmi Nepram: The Armed Forces (Special Powers) Act was clamped in indigenous areas of Northeast India since 1958 and continues till today. The Act is a remnant of the British Colonial Law that was passed in 1942 to thwart Mahatma Gandhi's Quit India Movement. The continued imposition of AFSPA in Northeast India for the past 61 years is proof that the Government of India continues to treat the region differently than the rest of the country, barring Kashmir where AFSPA was also imposed in 1990s. United Nations have asked India to repeal this act so too have several Government of India committees.
In the recent protests against Citizenship Amendment Bill which is an Act now, Assam in Northeast India was the first place where army was called out to quell protestors and where four people were killed in the firing by security forces. Citizenship Amendment Act is an Act that violates Constitution of India and the Universal Declaration of Human Rights. UN has called the Act, "discriminatory" and called upon in its statement to "fight racism".
As the current government at the centre continues its politics based on communal divide and rule and public protests continue, I am of the view that the government will ensure that the act will remain. In my opinion, AFSPA is the greatest blot on Indian's democracy and removing the colonial act will be the greatest confidence building measure that Government of India can do that will take the sting out of insurgency, and will pave a path towards genuine peace.
Knowledge is power, and our intention is to bring the power to you. We have initiated a thought movement that aims to strengthen democracy by bringing to you direct voices of important trailblazers and pathmakers, and reclaim deep and patient reflection as an important seed for relevant and sustainable action!
Help us take this movement forward. Support Inter-Actions today for as little as Rs. 100.
Donate
Donation to LILA is eligible for tax exemption u/s 80 G (5) (VI) of the Income Tax Act 1961 vide order no. NQ CIT (E) 6139 DEL-LE25902-16032015 dated 16/03/2015