Rabindranath Tagore coined the Sanskrit phrase Yatra Vishwam Bhavati Eka Needam to sum up his vision of setting up an institute of learning where students would be given the freedom to explore their surroundings, to gather from nature the vital signs of their existence, to imbibe different cultures, and to nourish themselves with knowledge which is synchronous with the environment. A home of learning which would become the meeting place for global cultures.
He realised that one's life should be in harmony with the world outside and believed nature to be the best teacher. Therefore, children were not to be confined to classrooms with a truncated pedagogic system. He understood the importance of the traditional Indian gurukul system and adapted the concept of open air teaching under the trees, exposed to nature. When the Santiniketan 'Brahmacharya Ashram' was established in 1901, a handful of students enrolled in this radical experiment by one of the greatest visionaries of the world.
Very soon, scholars and thinkers from all over the world started showing their interest in this endeavour and a couple of scholars and teachers joined the school. Among them Leonard Elmhirst (agriculture), W. W. Pearson (Botany), C.F. Andrews (a priest and an educator, also a close friend of Gandhi), Stella Kramrisch and Margaret Milward, teachers of Art History and sculpture, joined on invitation.
What started as a school for young students soon became the seat of higher learning and in 1921, it became a university. But before that in 1919, Tagore initiated the institute of fine art (Kala Bhavana) and performing art, (Sangeet Bhavana), which back then was treated as a single entity or department. Nandalal Bose was gradually inducted into the institute and was given the task of building it. With Tagore at the helm, Kala Bhavana became a major force in the nationalist art movement, giving shape to a completely new pan-Indian aesthetic for visual language in contrast to the European academic styles imposed by British art schools.
In Sriniketan (an extended campus) a rural reconstruction centre was set up and local farmers were trained in modern agricultural practices, along with a dairy farm and a creativity centre known as Shilpa Sadan, to exchange knowledge with craftsmen and support rural crafts. So social work and promotion of cooperative schemes became integral to the functioning of Visva-Bharati, which were of course more activity based, but added to the holistic nature of learning.
Government Control
Tagore was reluctant in accepting government funds, with the concern that it would result in having to conform to the State's policies on education. He was constantly in search of funds from other sources to meet the expenses of this institute. Although day-to-day sustenance was manageable due to the frugal lifestyle of the resident scholars, students and workers (the emphasis was on dissemination of high knowledge with a simple lifestyle), there was always a recurring crisis that slowed down the desired expansion. After he received the Nobel Prize in 1913 for Gitanjali, his collection of profound spiritual poems sold in large numbers in Europe, and the translated versions in many countries worldwide. The royalty he thus received was dedicated to the functioning and upliftment of the institute. 
When Mahatma Gandhi visited Santiniketan in 1940, Tagore expressed his desire to bestow the responsibilities of protecting and preserving the institution to Gandhi in his absence. But, after his death in 1941, and Gandhiji's assassination in 1948, Jawarharlal Nehru, realising the importance of this institute, brought it under Government control. Santiniketan thus became a Central University in 1951. Although this brought economic stability, it was gradually assimilated into the Government's educational policies, which Tagore always wanted to avoid in spite of crushing monetary crisis.
Visva-Bharati, as a Central University supported by the government, is a seat of higher education affordable to students from all economic classes, for the pursuit of their studies. The primary and secondary school, known as Patha Bhavana, is the only school with a special status under the University Grants Commission (UGC) – the funding body which governs all centrally controlled institutes of higher education.
Patha Bhavana (the school), Kala Bhavana, (institute of fine arts) and Sangeet Bhavana (the institute of performing arts) are the three core institutes of Visva-Bharati, which are struggling to maintain their pedagogic character laid down by Tagore, and have compromised in every step to fit into the regulatory structure drawn by the UGC. Their effort to push a standardised formula down their throat has given rise to a complex set of problems that are conflicting with the model envisaged by Tagore. The transition has been relatively smooth in certain departments like science and humanities but the worst affected are the Fine Arts and Performing Arts section, where evaluation through semester system has caused grave damage to its core character of teaching.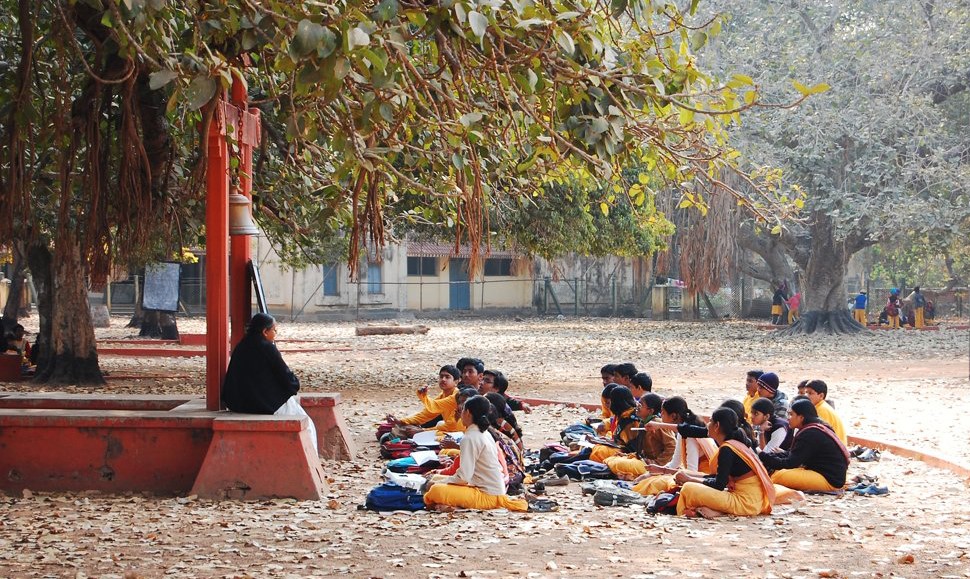 Global-local Connect
It would be fallacious to assess Visva-Bharati by focusing only on the three core institutes that are culturally active and are always strongly associated with Santiniketan in the public psyche. There exist other departments, (known as Bhavanas) for humanities, science, agriculture, social works, education etc., which also embody the University. Cheena Bhavana (the Chinese Dept.) and Nippon Bhavana (the Japanese Dept.) have a strong presence in the University that attract scholars and impart robust academic and cultural exchange with China and Japan.
After six decades of independent rule, India moved towards rapid industrialisation. But the yawning gap between the urban and rural remained glaringly prominent. Education in the rural sector depends mainly on government aided schools, which in some states remain appallingly neglected. While in the urban sector, privatisation and commercialisation of education is creating an elitist, so-called educated class, which is increasingly being alienated from the realities of the larger rural population of India, Visva-Bharati, to some extent, is filling the gap between these two extremes. Apart from an affordable fee structure and residential character of the University that allows access to students from all corners of India, Kala Bhavana and Sangeet Bhavana also attract a cosmopolitan body of students, including foreigners.
So, how has Santiniketan adapted to the fast changing educational system?
The question is more complex and has undertones which can be partially explained through a lengthy discourse based on studies of national policies, social, economic and political situations pervading modern India, and their effect on the growth of Visva-Bharati. Socio-political unrest, mounting insecurities of a young generation struggling to find foothold in the job market and a general degradation of moral and human values are factors that threatens to dislodge this 'abode of peace' from its original idea. Therefore there is a constant struggle to resist these forces, which manifest in the form of student's unrest, interference of local politics in the administrative functioning, clash of ideologies among academics etc. In this situation it is unimaginable that Santiniketan can exist as an oasis of peace, unaffected by the turmoil around.
Having said this, not all is lost here.
The legacy of Tagore, with the sheer strength of its concept, created a cultural fabric which may have withered with age, but refuses to break. It's the only institution that celebrates every seasonal change in nature with cultural performances. Basantotsava (celebrating Spring), Varsha-mangal (celebrating monsoon), Halakarshan (solemnising the plough meant for tilling the soil), Vriksharopan (tree-planting ceremony) and Saradotsav (celebrating Autumn), Pous Utsav (winter festival), etc. are celebrated through song and dance.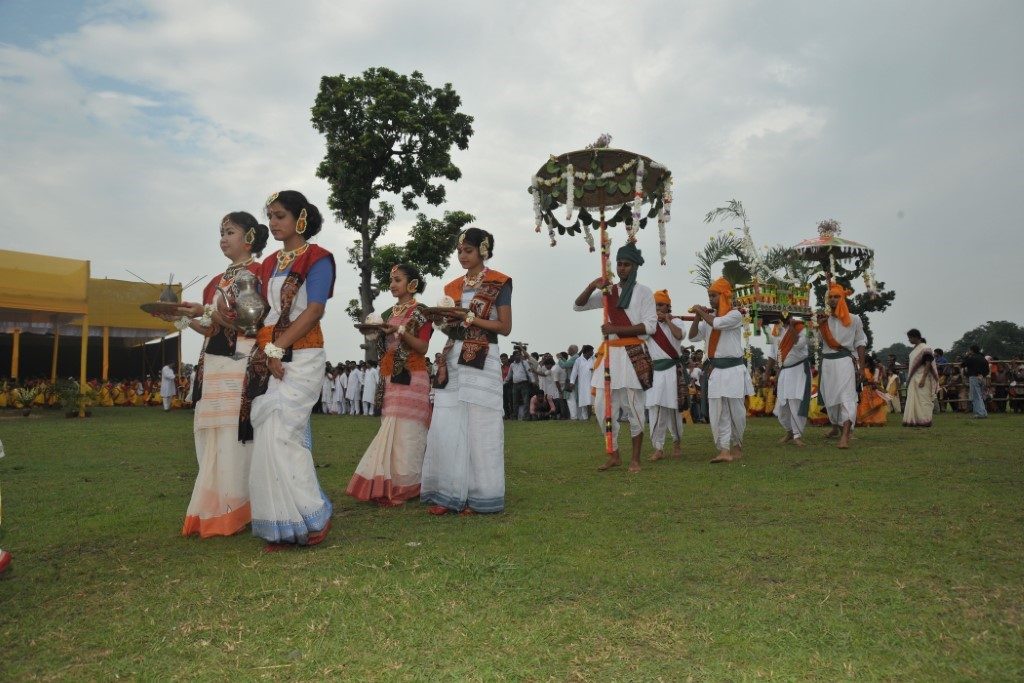 Tagore in his lifetime was a major intellectual and charismatic force who attracted global attention and was reason enough to give a strong ideological foundation to Visva-Bharati. His realisations on spirituality, science and aesthetics are so profound and deep, that they seem even more relevant and meaningful for human existence in today's world. In spite of crushing economic, political and social instabilities all around, Santiniketan has an internal healing mechanism, a gyroscopic force, which seems to stabilise, balance and preserve its cultural identity in times of crisis.
There are arguments and counter-arguments that Visva-Bharati could have done better in academics and excelled in many areas had it been steered in the right direction. But these questions breed more important questions and need serious introspection on whether as a nation we have been able to give credence to Tagore's thoughts, or have we instead looked westwards in a bid to 'globalise' ourselves. Are we not, as globalised citizens, forgetting our own songs, our own stories and time-tested wisdoms born out of our own soil? His notions of pluralism and multiculturalism were never more relevant than today. He had never foreseen the cyber revolution, but realised that in art, music and nature lies our liberation – the all-permeating universal rhythm, that we all should be in tune with.
In a sense, Santiniketan still holds on to this truth.
All images are courtesy of the author.
Knowledge is power, and our intention is to bring the power to you. We have initiated a thought movement that aims to strengthen democracy by bringing to you direct voices of important trailblazers and pathmakers, and reclaim deep and patient reflection as an important seed for relevant and sustainable action!
Help us take this movement forward. Support Inter-Actions today for as little as Rs. 100.
Donate
Donation to LILA is eligible for tax exemption u/s 80 G (5) (VI) of the Income Tax Act 1961 vide order no. NQ CIT (E) 6139 DEL-LE25902-16032015 dated 16/03/2015