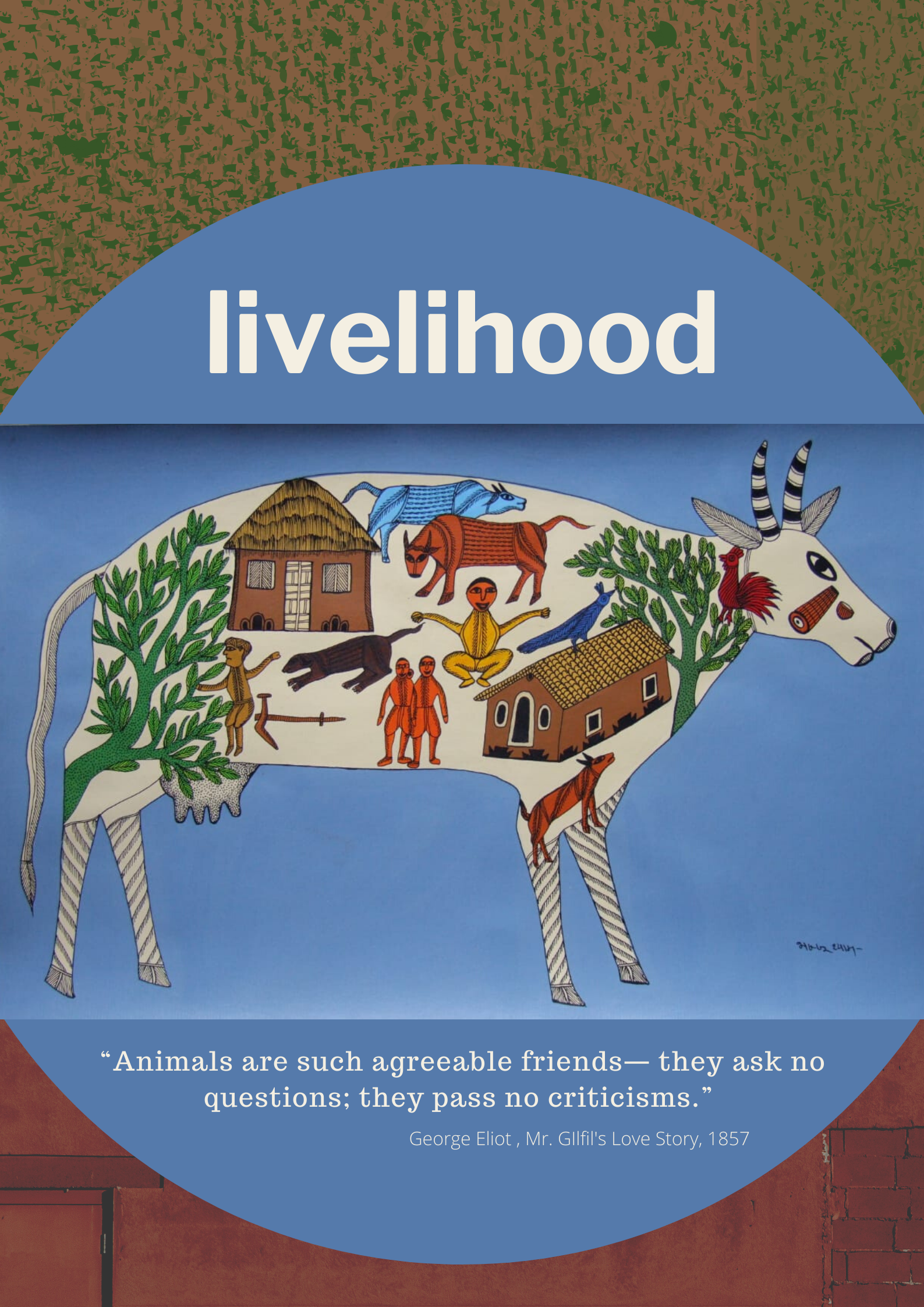 The Continuum of Land, Peoples, Livelihoods 
Mitra,
India is witnessing a strange struggle this New Year. Different peoples of this land are fighting  against a common adversary at this time, for reasons that would have been incompatible outside the frame of the greater threat in question. Demonstrations against the Citizenship (Amendment) Act seem to have organically connected this diverse country like, perhaps, never before. While the resistance in most parts of the country is about the discriminatory nature of the Act that poses a risk to the secular fabric of the country and the right to equality  granted by the Constitution of India to all its citizens, in the country's Northeast, it is against the move to naturalise non-Muslim minority refugees who 'apparently' faced religious persecution in Bangladesh -- which borders a number of Northeast states -- and in Pakistan and Afghanistan. The indigenous people in the Northeast worry that the law endangers their identity and livelihood.
This accidental moment of connection is a threshold from where we the Indian people could indeed rethink our futures in a manner that would allow us to appreciate our lives and livelihoods  in deep relation with this land and its remarkably pluralistic geographical and cultural space.
Following the 1991 shift in our economic policy, India began to willingly accept that in order to facilitate private investments, domestic as well as foreign, more land acquisition was required, especially in the resource-rich tribal areas. Our policymaking process has increasingly been following a blind import-oriented approach wherein we introduce into our context, an external system without analysing its organic ground and conditions. For instance, our expressways built without an overbridge or subway for several miles cut many of our villages into two parts—sometimes separating the cattle from their grazing grounds, at other times, isolating human beings from their sources of livelihood. Hence, a road which must ideally have been a connector often turns out to be a site and tool of deprivation, isolation and avoidable death.
As the blue print for the planned reconstruction of the Central Vista in New Delhi has just been made public, one reflects on how a governance mechanism that focusses on externals like infrastructure to the exclusion of the people and their cultures could form such gaps in the nation's consciousness that may not be easy to bridge. The question is what will give us an understanding of the organic path that we must follow in pursuing our goals of growth and development as a country. This understanding cannot come from the colonial model education that we are still following. Our educational system with its vertical orientation only promotes the linear attitudes that bring the real people of our multicultural country to such dilemmas that are hard to resolve. We need a multi-centric approach towards education, and that alone will help us understand our land, its people and their means of livelihood as parts of the same wheel of life.
This New Year 2020 issue of Inter-Actions focuses on a fundamental: 'Livelihood'. It attempts to address some of the above complexities of life and governance that India faces now, and celebrates a few heroes who have found their way "amid the encircling gloom" to help themselves and others to be interdependent in the most healthy way, thereby showing an example to the nation at large. Our LILAIGHT of the Season is Tender Heart, an organisation founded by the compassionate Renu Bali whose perseverance and alacrity have helped transform not only the lives of hundreds of individuals but also many communities. The story of Tender Heart is a saga of an organisation unceasingly exploring possibilities, pushing boundaries, keeping 'life' at the forefront of all its work.
This quarter's Renaissance Person is Binalakshmi Neparam, the founder of two of the most important people's movements in India's Northeast, Control Arms Foundation of India (CAFI) and Manipur Women Gun Survivors Network (MWGSN). Her interventions have, on the one hand, created much awareness in the world outside Manipur about the different levels of armed violence in the state and their tragic consequences, and on the other equipped hundreds of women to find their independent livelihoods.
In Basic Conversations, we feature Prithwi Ghorpade, a businessman turned farmer and his revolutionary thinking on de-canonisation of livelihoods in the primary sector, and Swati Paradhkar, the President of Lijjat Pappad speaking about the business and family values that have made Lijjat the livelihood enterprise that it is today.
Unny's Leetatoon comes to you with an ironical evocation of the "workers of the world" as he exhorts the "networkers" of the world "to unite", while Shivani Karmarkar's regular column Aesthetics of Conflict reflects on the educational need of the hour towards arriving at livelihood solutions for the country.
In Reflections this quarter, we present some extraordinary sites to locate livelihoods and related problems: the possibilities in the Underwater Domain explored by Maritime Studies expert and ex-Naval officer, Arnab Das; Natural Scientist Paulina Lopez examining the many unrecognised reasons of social unrest in Chile; Researcher Prashant Ingole writing on Grassroots Singing Traditions; Development Research specialist Tara Nair tracing the many futures of entrepreneurship; Learning professional V Anand tracing the apparent gaps between education and workforce.
In Rubaru, we have conversations with Management innovator and the Founder CEO of Technopark in Thiruvananthapuram, G Vijayaraghavan on his newest initiative to create a livelihood continuum for the differently abled; one of the Directors of SWaCH, Harshad Barde on creating a revolutionary organisation of,  for and by the waste pickers;  Liby T Johnson, Development Management expert, on building rural livelihoods based on local historical realities; and ground-breaking social photographer Sudharak Olwe on his work to bring dignity to the life of manual scavengers.
Wordactions this time presents Storywallah Ameen Haque and his relentless efforts to retain the essence of the true story in an age when every LinkedIn profile shows its account holder as a 'storyteller'.  Artactions shows how the exceptional Gond artist Bajju Shyam has made his traditional artistic tradition into a site of artistic dignity as well as an organic means of livelihood.
In Perspectives Anjali Bhushan analyses the many pitfalls of polarising the notions of 'motherhood' and 'livelihood' in our times, while Rupal Bhandari examines the advantages and challenges involved as many corporate companies open their doors to the members of the LGBTQIA communities. We also present a remarkable excerpt on Radio singer Pyaari Bai from Saba Dewan's seminal book, Tawaifnama.
There is no end to talking about livelihoods, but we hope we have been able to touch upon many significant aspects of this question. As our country has entered a 37-year period of demographic dividend during which around 63% of its population would remain in the 'working age group', the most important concern any government should have is how to impart an education to its people in a way that will enable them to access a means of livelihood in sync with the changing thought processes of the world as well as their own aspirations. Vision 2020 must be focussed on that, and not on constructing the paraphernalia of any projected image of glory.
In India, separating the notion of livelihood from one's overall evolution has never been the way – even today in a potters' village in Madhya Pradesh, we will find artists sitting under the moon at their potters' wheels and singing Kabir bhajans through the night even as they create exquisite forms that are at once functional and aesthetic. It is in that free and open continuum of love and labour that our governance of livelihoods may be located. To that heaven of freedom…let our country awake this New Year!
Heartily
rizio
(for Team Inter-Actions)