LILA: Thank you for participating in this issue of Inter-Actions, themed EDUCATION, and sharing your works with us. You have stated that calligraphy for you is not only an art form "but an expressive medium where letters in all their nakedness become alive." When did this interest in calligraphy begin for you and how?
Achyut Palav: Since a young age I was inclined towards art. Due to my good handwriting, my teacher entrusted me with the work of writing daily thoughts, 'Suvichar', on the school board. What started as a routine task soon became a turning point of my life. I started to read these sentences very carefully before writing them. I understood their meaning and recognised that each word and form gained its power from the meaning it had. It was a wonderful insight and I began to fashion the letters in order to convey their meaning more effectively. This led me to take up the field of arts and graduate in Typography-Calligraphy from Sir J.J. Institute of Applied Art, Mumbai.
LILA: What are the different scripts and languages you work with and how did you come to work with them?
AP: My work lies primarily in the Devnagari and Roman Scripts. But I have worked with most Indian scripts over the years. They have been for various corporate jobs and customised creations requested by people for personal use and collection. Some scripts have captured my attention with their beauty and graceful or robust strokes. I have created texts in various scripts for brands like Pepsi, Tata, and for felicitation of personalities like Amitabh Bachchan.
LILA: Much of your work evokes various philosophical expressions and references, for instance your 'Surya' series, 'Ishwar Allah Tero Naam' series, as well as works like 'Kundalini', ' Bindu', etc. Would you say there is a strong philosophical foundation to your art?
AP: Definitely. A strong philosophical connect is seen in my work. It is reflective of the thought process that goes behind each painting, series or specific subject chosen. I have always been fascinated by the teachings of various saints of Maharashtra. Similarly my strong beliefs that 'Letters Connect People' and they have the power to further knowledge are also the reasons that I use my paintings to promote the message of peace, harmony and the quest for the 'Ultimate Truth'.
Kundalini (left) and Bindu (right) by Achyut Palav
LILA: The practice of calligraphy is often considered to be a spiritual exercise due to its potential for meditative immersion and creative expression. Calligraphers have said that often, they don't begin their stroke knowing what they are going to create, but let their spirituality guide them. Can you tell us about your own practice of calligraphy in this light?
AP: As an artist I was encouraged to imagine beyond the ordinary and was bestowed upon the freedom to express my thoughts on canvas. While pursuing calligraphy I realised that individual letters or texts need to be visualised by your inner eye for all their potential in relation to space, proportion and alignment. When I contemplate the application of a design or envision a calligraphic painting, I let my intuition guide me. This resembles a meditative process that deepens with the knowledge I gain each day.

LILA: Calligraphy carries a long history in its words – from being an important unifier for communications in the Indian tradition, to being extensively developed as an art form under Islamic cultures due to their non-figural tradition. Is there a way to historicise calligraphy in this way, by building a discourse on cultural education?
AP: Calligraphy can be and I feel has to be introduced in the school curriculum. It not only enhances creativity and creates a positive impact on a person's performance by boosting imagination but more importantly becomes a medium for young students to study an art form and the various influences on it throughout history. They will learn to appreciate the diversity of various cultures and religions as well as explore the unity and harmony through calligraphy.
LILA: Beyond schools, do you think the art form itself can become a pedagogical tool for learning and teaching history, philosophy, spirituality, etc., such as your own research into the 'Modi' script? How did calligraphy become a tool in your research, and what insights did you gain by the end of it?
AP: Calligraphy is an excellent teaching and learning tool. I have also used it as an effective therapeutic tool. Learning the art has its benefits: better performance in arts & crafts, which leads to better presentations and projects. I have seen increase in creativity, improvement in concentration among many after practicing calligraphy. It also helps release blocked creativity. Since every creation needs contemplation on space, style, and the meaning of the text it is a very spiritual exercise.
Researching the Modi Script was a great experience. The tool used was 'Boru'. It was a script that was predominantly used for official records and texts and thus facilitated speedy writing. It is a highly practical script that adapted itself to the various time periods in history and to the medium used. It taught me that a single script can be styled as desired depending on its purpose and application with striking results.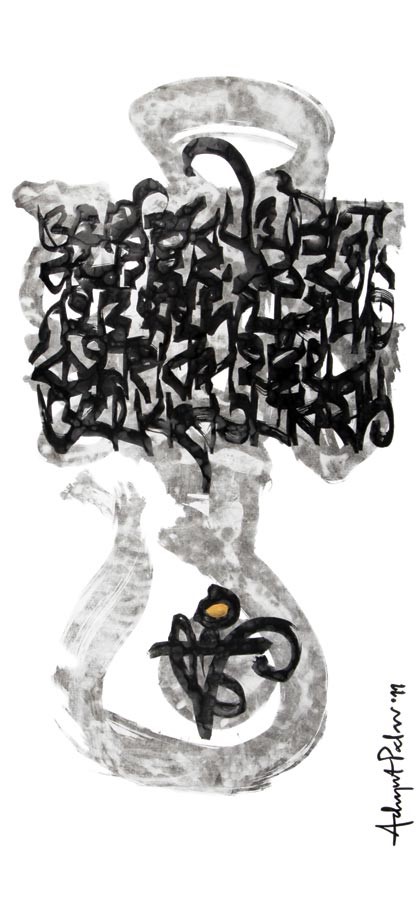 LILA: Do you have any particular iconography that you prefer to explore more to other elements in the art of calligraphy? What are these?
AP: I have never consciously explored specific Iconography. As an artist I love the freedom to explore all possibilities, facets and variations of an art. By having a preference, I restrict my knowledge. I am a lover of scripts. Though Indian letters and symbols have always fascinated me, it hasn't stopped me from learning about and appreciating other scripts.
The 'OM' is probably the only symbol that I have created the most.
LILA: What are the unique insights you gather while working with your hands in an increasingly digital age? Do you think it is important to preserve and reclaim such somatic immersion in fields of work and education?
AP: I have always preferred the work by hand to an entirely digital creation. It carries the element of uniqueness and encourages originality. By laying emphasis on handwork, one aims at perfection. But softwares can help enhance the creation and also increases its potential of applicability.
LILA: Your calligraphy workshops, as well as your school of calligraphy have become well-known spaces for people interested in calligraphy. With the written word gradually dying out, what reasons have you observed for students to remain interested in this art form? How does your school keep this interest alive?
AP: My love for calligraphy drives me to innovate and further the art. I strive to ensure that the workshops are unique, with a theme that is beneficial to the students. We at Achyut Palav School of Calligraphy (APSC) encourage students to learn the basics of calligraphy and then further their understanding of design through experimentation. Mastering the basics, in-depth and step-by-step learning and knowledge of tools and medium transforms the students into good artists. This process needs time and patience which our students are given. I have observed that people lack awareness about calligraphy and are very curious and eager to learn Indian and foreign scripts when introduced to the art.
LILA: Many young people are gradually forgetting to write with their hands, as most occupations are now digitised. Have you observed this in your students as well? How do they respond to writing with their hands?
AP: Yes, we live a life surrounded by gadgets. Our lives revolve around computers. Children and the youth do write less as they grow older. But I see many people take up the art of calligraphy out of curiosity or as a hobby. I have often experienced with students at APSC that the youth have the desire to learn this art form and explore various aspects of writing. They recognise its benefits and also enjoy the act of writing. It gives them an outlet for their creativity. It is not that the students do not desire to pursue writing; they simply do not have enough time. To refine calligraphy skills one must practice regularly. 
LILA: What do you think is the future of calligraphy, as we understand it today?
AP: The art of calligraphy is versatile and with immense potential for commercial application. It is gaining popularity and people are using it in various capacities in diverse fields ranging from corporate identity to events to body art. It has been successfully used in fashion and interior designing too. It can become a viable profession as a student of calligraphy can work as an independent artist, in design studios, interior firms, fashion or as a teacher of calligraphy. More and more people are taking it up as a hobby or as a creative outlet. Looking at the growing popularity and the eagerness of young students to experiment with the art, the future of calligraphy is promising.
Knowledge is power, and our intention is to bring the power to you. We have initiated a thought movement that aims to strengthen democracy by bringing to you direct voices of important trailblazers and pathmakers, and reclaim deep and patient reflection as an important seed for relevant and sustainable action!
Help us take this movement forward. Support Inter-Actions today for as little as Rs. 100.
Donate
Donation to LILA is eligible for tax exemption u/s 80 G (5) (VI) of the Income Tax Act 1961 vide order no. NQ CIT (E) 6139 DEL-LE25902-16032015 dated 16/03/2015